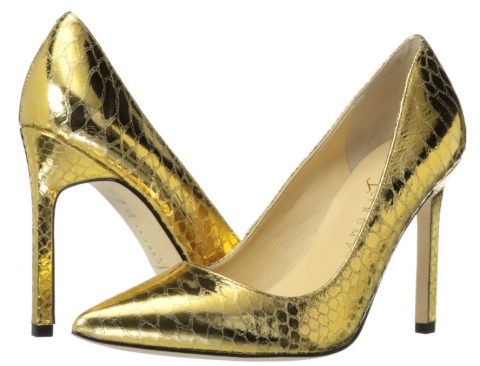 Simplicity is the key to high heeled shoes in 2014, according to the writers at HighHeelsDaily.com. We've reviewed literally hundreds of on-trend stilettos since we launched in 2010 and, when our authors sat down to discuss their predictions for the leading shoe trends for 2014 and beyond, simplicity was the universal catchword.
Onto the more specific predictions. The biggest shoe trend of 2014 is predicted to be towards single-color heels, and away from the contrasting "color blocking" look that has dominated high heel design in recent years. While some designers will continue to have success with two-tone heels and even contrasting stripes, it seems the color block is finally on a downward trend.
In place of that now well worn shoe look, single metallic coloured heels are predicted to increase in popularly as the year goes on. High-end labels such as Giuseppe Zanotti, Jimmy Choo, Christian Louboutin, Kate Spade and Saint Laurent have all produced high heels in metallic shades for 2014.
Simplicity will also dominate in shoe shapes, with phonebook-thickness platform heels also becoming less prevalent. Already designers have instead started turning to classical single-sole pumps and sandals again and the d'Orsay heel (which has a cut-out side to reveal the arch of the foot) is also increasing in popularity.
Rolling all that together, we've picked out Ivanka Trump's gold Carra
heels to illustrate this story. They're everything that on-trend should be – and they're also on sale: $94.99 from Zappos, reduced from $135
.
Notwithstanding everything we've predicted, some things will stay the same. Heel heights are not going to get any lower, with a four inch heel now considered almost a minimum height for a pair of designer shoes. And sadly, prices are also not on a downward trend. A new-season pair of Manolo Blahnik's iconic BB pump in a gunmetal metallic shade will set buyers back US$595 for example, and that's at the cheap end of the designer shoe range.
HighHeelsDaily.com's predicted high heel shoe trends for 2014
IN
OUT
Single soles
Towering platforms
Four inch stiletto heels
Kitten heels,wedges
Single colour, or simple two-tone designs
Colour-blocking
d'Orsay pumps
Clodhoppers