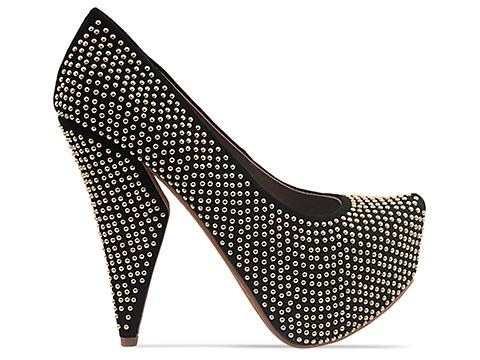 We probably don't feature those crazy cats at Solestruck on HighHeelsDaily.com nearly enough. The site turns 10 years old this month – and all built on a mission to rid the world of ugly shoes, one pair at a time. I think you can fairly add "boring" to ugly, as there is nothing dull about the collection of heels that Solestruck manages to source. Basically if you're looking for new, emerging or indie brands from around the world it is a great place to look. Mainstream it is not; but we probably should push ourselves in the different and quirky direction more often.
With that editorial imprimatur, and getting into the birthday spirit, we present these  super-angled heels on bedazzled platform pumps which are now on sale at Solestruck in limited sizes for $254.95
 with free worldwide shipping (Solestruck has free shipping on all US and Canada orders, and on all international orders over $199). The shoes are called Lydia by Matiko, and they are available in black with gold studs as pictured here. Lydia has a 6″ heel and 2″ platform although as usual heights vary with size slightly – further details are available via the link.