Actress and fashion designer Kristin Cavallari has revealed via her Instagram page an exclusive first look at some styles from her fall shoe collection. The sneak peek picture is a "regram" from @peoplestylewatchmag and shows a double d'Orsay pump and a cut-out peep toe bootie. Both heels are in the same black and white painted animal print which Kristin predicts "is going to be huge for fall."
Unfortunately Kristin has hit the headlines for the wrong reasons lately. She and her husband have decided not to vaccinate their children, seemingly because of a perceived link between vaccination and autism ("I've read too many books about autism," Kristin said when probed on the question earlier this week, as if reading a few books could somehow displace the weight of accepted scientific and medical opinion.)
Personally I think she should stick to designing shoes and leave the science to the scientists: there is no tangible evidence of a casual link between ingredients in vaccinations and autism, as this immunologist has pointed out. The scientist also points out that not vaccinating your kids is a terrific way to give them a chance of dying of completely preventable diseases. Anyhow, this act of insanity aside, it's back to the shoes.
Kristin Cavallari has been designing for young-women orientated label Chinese Laundry for a while now, and she certainly has produced some lovely and popular pieces. We've featured two fabulous new shoes in this article. The high heels above are called Kalea. This open-sided, ankle strap shoe has a polished leather upper and a 4.5 inch heel. It's available at Zappos for $149.95
.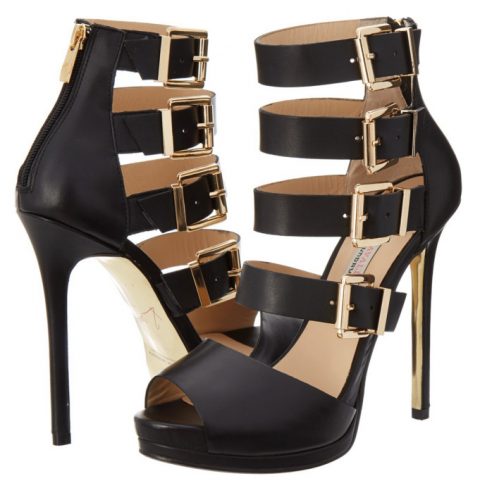 Chunky, four strap high heeled sandals are second new treat dished up recently by the Kristin Cavallari Collection for Chinese Laundry. The all leather upper of this shoe sits atop a 5.25 inch heel with a 0.5 inch platform. Called Lark, these shoes are now available from Zappos for $189.95
.