Online footwear retail in the luxury sphere is big business, and the competition continues to grow hotter as more and more women become comfortable with buying heels online. In recent years retailers have not been idle in helping smooth the transition from bricks and mortar to web-based retailing.
Improvements have included offering reduced or free shipping and retailers investing in producing better quality pictures of their wares, including multiple angles and close-up shots. Customer service has also improved across the board, at least partly due to the real-time (and public) effect of feedback given via social media. The online luxury shoe retailing experience is overall a high-quality one across a number of sites.
One of the more critical keys to success in this field is ensuring a reasonable range not only of respected labels, but also of the latest on-trend heels put out by those labels. Buyers who get it wrong will suffer as shoppers simply go elsewhere.
A website that seems to us to get the product range of luxury shoes more or less right each season is mytheresa.com. There are probably some good reasons for this: the site was launched as far back as 2006, and has had time to mature. In addition, mytheresa.com maintains links with its sister company THERESA, a bricks and mortar luxury fashion store that has been operating in Munich since 1987. No doubt mytheresa.com has been able to leverage off this experience and off connections with leading designers worldwide.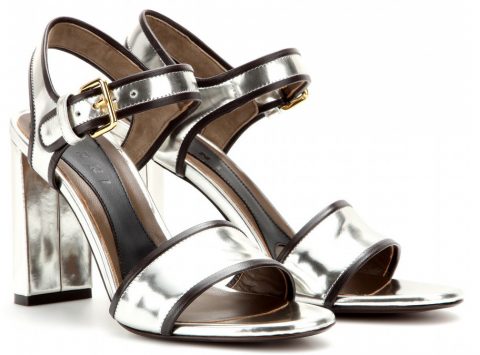 Each season, mytheresa.com's buying team faces the challenge of selecting luxury footwear that is in step with modern trends and that will sell. As they're a long established player in this market, we asked to pick the company's corporate brains about high heel shoe trends and online retail developments for 2014 and beyond. Senior Communications Editor Mrs Denise Lyons gladly answered our questions, and our interview with Denise follows below. Images of some of the on-trend heels identified by Denise illustrate this article.
HHD: Recently we identified some of the high heel shoe trends  we see happening for 2014. What are the high heel shoe trends that you think we should be looking out for in 2014 and beyond?
DL: Honestly, kitten heels are the must-have summer height . Chloé's block heels are also amazing as well as Marni's chunky heeled sandals [HHD: the Marni sandals are pictured above]. For the upcoming Fall season,  detailed heels are hot, check out Miu Miu's spike versions and Stella McCartney went super chunky with platform styles which remain a fave among the fashion set [HHD: see picture below].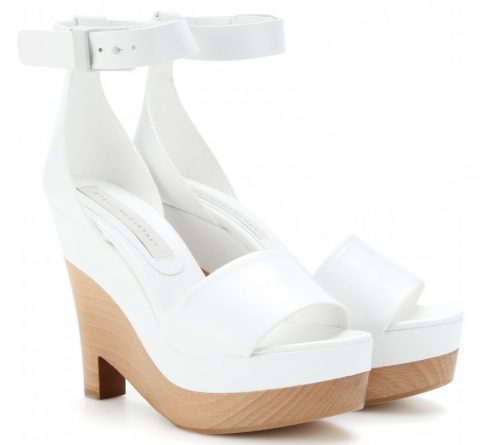 HHD: There seems to be ferocious competition in the online marketplace for high-end, designer footwear. What does mytheresa.com offer that helps it stand out from the others? Are there any developments we can expect to see to continue to improve the online retail experience for footwear?
DL: The mytheresa.com selection stands out because we offer the finest edit in luxury fashion. This translates into the best buy, best selection and best brands  when it comes to our assortment which of course includes footwear. Online retail is improving  and developing all the time with new technological and cosmetic improvements. Product pictures are super detailed,  videos have been incorporated etc etc. Every day we learn what the customer wants and everyday our teams work on granting them the best experience in online shopping.
HHD: Are there any buying tips you can give to women who are looking to purchase high heels online?
DL: Purchasing high heels online is like purchasing any other item of clothing or accessories. The most important thing is to love what you want to buy. Read the descriptions, especially sizing recommendations and heel heights carefully, view the detailed pictures and then make your decision. My motto is, if you really love them, buy them.
HHD: mytheresa.com has an incredible range of high heels from a wide range of luxury labels. If you could just pick one pair of this season's heels to highlight, which pair would it be and why?
DL: I am in love with the Alexander McQueen's black suede gold metal tip sling-backs [HHD: these are pictured at top and bottom of this article]. If ever there was a super femme shoe for the season for me, this is the one. It also helps that sling- backs are full in style and since most of these come as kitten heels, taking it up to a higher level is exactly what I want!