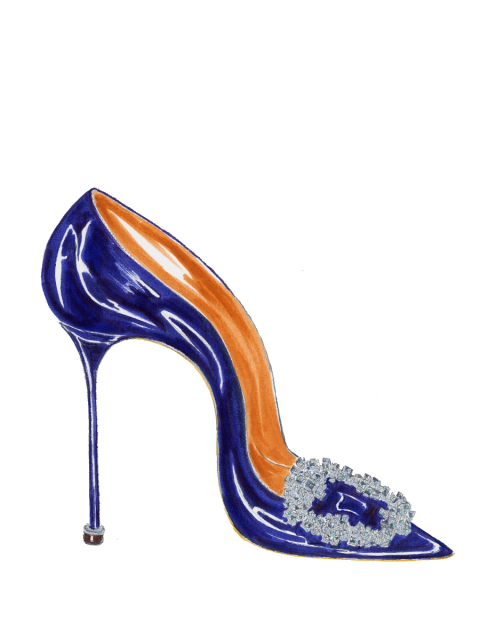 Back in April 2012 poor old Christian Louboutin was quoted as telling Grazia that he had "not so much sympathy" for women wearing his designer high heels. "High heels are pleasure with pain. If you can't walk in them, don't wear them," Christian thundered, causing a predictable outcry.
This followed 2011's hullabaloo when Christian told the New Yorker 'I HATE the whole concept of comfort!" Women in ugly shoes wrote furious newspaper columns in protest. These were largely ignored and sales of the red soled shoes continued their rise.
Fast-forward a year or so and Christian Louboutin says he was misquoted on the issue of comfort. So what did he really think about the importance of comfort to wearers of high heels? And what about two other leading design brands in Jimmy Choo and Manolo Blahnik? Do they really care about comfort when producing their high-end (and high-price) stilettos? Who cares more?
And, while we're at it, do these big-name designers ever try on their shoes themselves?
So many questions! For the answers to all of them, read on.
Gold medal for comfort: Manolo Blahnik
The granddaddy of shoe designers (he turns 72 this year) gets first prize of the three contenders for caring about comfort when designing women's shoes. How much does Manolo Blahnik care about comfort when designing shoes? The short answer is that he cares about it a lot. In 2012 Manolo told the Telegraph that comfort was "of paramount importance." He continued:
Some people say you have to suffer, to have high heels that hurt. But being miserable is unnatural. There is a trick that you master over years and years, so you know exactly where the pressure on the foot will be, and that's where you place the heel. If it's a minute millimetre out of the way, it will be a flop.
In March 2014 Manolo confirmed to the Observer that "Women's comfort is of great importance to me." So what is the secret to designing comfortable stilettos? "The key to making a high shoe comfortable is symmetry and balance. Everyone in my factories tries on the shoes until we have it just right. I have learned over the years that there are many little tricks, like making sure the ball of the foot is comfortable first."
That just leaves the question of whether Manolo Blahnik tries on the shoes he designs. Well, the answer is yes… and no. Back in 2011, Manolo told Hemispheres "Oh goodness, immediately, yes! If it's wrong, I can detect it in seconds!" However, last month the designer confessed to the Observer that his body was no longer up to it: "Sadly, I can't do that any more since I broke my tendon," he said.
Not to worry, as workers in Manolo's factory in Milan still road test his shoes. "One, she is huge, with big, Mediterranean feet, but I know 100 per cent that if she can walk in my shoes properly, the shoe is good," he quipped to the Telegraph just after turning 70.
Silver medal for comfort: Jimmy Choo
Jimmy Choo's attitude to comfortable shoes seems unequivocal: back in 2013 he was asked what shoes he would take travelling if he could only take one pair. "It would have to be a comfortable pair," Jimmy told the Telegraph's Travel section. "When we walk we need comfortable shoes to hold our feet. I also like to wear slippers. I'm always reminding my family, 'Slippers, slippers, slippers!'. Feet are very important."
However Jimmy Choo hasn't been a part of the brand that bears his own name since selling out in 2001 after his relationship with Tamara Mellon broke down. Worse still, as Tamara asserted when promoting her autobiography
in 2013, Jimmy never actually designed any of the shoes sold by the Jimmy Choo brand even when he was part of it. In 2013, when asked by interviewer Jenna Bush-Hager on America's Today show whether Jimmy designed any of the heels, Tamara answered: "Not one. Not one sketch did I get from him. Not one."
In truth, the Jimmy Choo range was always designed by Sandra Choi, Jimmy's niece. Sandra is now the sole creative director at the label and, like her uncle, she also seems to take comfort seriously. "Talking about comfort is not very sexy," Sandra told The Cut in 2013, "but our shoes do fit well, and that makes a difference when you need to stride around and look confident." Speaking to the Fix last year, Sandra elaborated and explained her role as unofficial shoe-tester-in-chief:
First of all, I've been trying the shoes on for years. Since you put your entire body weight into your shoes, they should be comfortable! Maybe not for 24 hours a day, but if I can do something to make them a bit more comfortable without sacrificing style, I will. It's not very sexy to talk about comfort, so we don't talk about it. But people do mention it, and it's a nice, proud factor of what we do.

The quality of leather helps the shoe shape to the foot. When we try on certain shoes for fittings, I don't just try it on one person; I try it on several people! I like to have everyone try them on so I get an average fit. It doesn't matter how beautiful a shoe is—if it's uncomfortable, sometimes it'll get left behind in your wardrobe.
Sandra's obsession with comfort was confirmed in an interview with Tina Loves in 2012: "I actually try them all on and all the samples are made in my size and the girls in the office actually trade them around to make sure that they're okay," she said. And, as if that wasn't enough, here's what Sandra Choi told New York Magazine in 2013 about whether she tried on all the Jimmy Choos herself:
I do! I'm a little obsessed with how they look. We have a joke that everyone who works for the team must have a size 37 foot so that they can try on the shoes for me. My right foot is a size 37, my left foot is a little smaller.
Bronze medal for comfort: Christian Louboutin
As we noted above, in 2011 Christian Louboutin caused waves by telling the New Yorker that he hated the concept of comfort. That quote got a lot of headlines, and the designer elaborated on his passionate dislike in the same interview: "It's like when people say: 'Well we're not really in love but we're in a comfortable relationship.' You're abandoning a lot of ideas when you're too into comfort." Christian wasn't a fan of the word "comfy" either:
Comfy, that's one of the WORST words! I just picture a woman feeling bad, with a big bottle of alcohol, really puffy. It's really depressing, but she likes her life because she has comfortable clogs.
All of this should have been enough for readers to tell that Christian was teasing a little, but it didn't stop a PR brouhaha developing. Reflecting on the comment to Metro in 2012 Christian described it as "sort of a misquote." "I have no problem with the idea of comfort," the designer continued, "but it is not an important thing aesthetically. If you look at a shoe and immediately say it looks very comfortable, in terms of design, it is not going to excite me. Of course, I am not putting nails in my shoes to ensure everybody is in pain, but a heel is not a pair of slippers and never will be.'
Those comments may not win Christian a gold medal for prioritising comfort, but is that such a bad thing? Christian further explained his priorities to CBS News in 2013:
Design is my most important thing, but then after I have tricks to make in order to make those shoes as comfortable as possible, but it's true that the comfort is not my first thing. If you look at my shoes I just don't want you to tell me  "Oh my God it looks so comfy." That's not a thing that I would take as a compliment.
Knowing all this, has Christian Louboutin ever tried wearing his own shoes? The answer is yes, but only twice. The first time was at a cross-dressing themed party. "And another time I was making heels and I was trying to understand the balance, the center of gravity. It was very technical, so I can't say I've worn high heels for excitement, or to feel like a woman," the designer confessed to Popsugar Fashion News back in 2010.
Once or twice was enough though. "I can understand that it is not like walking on sneakers," Christian told CBS News in 2013.