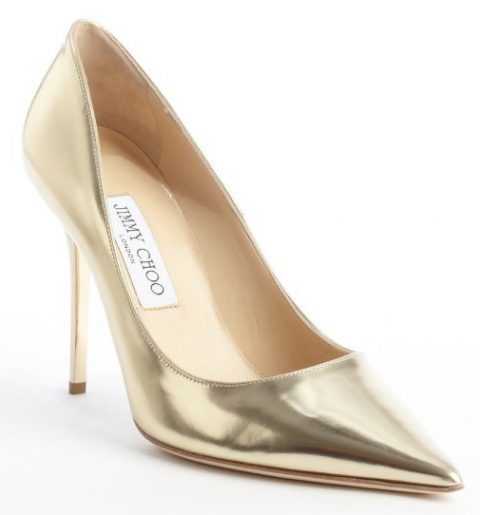 Many high-end labels seem to frown upon using discount sites to clear excess stock. One reason may be that really hot-selling labels would rather produce a limited number of heels and keep the demands (and their profits) high. Another reason may be the risk of counterfeiting: as soon as a brand increases the number of sites on which its shoes are available, consumers may become less surprised to see those shoes everywhere on the net – and less vigilant against counterfeiting.
Who knows? Anyway, what we do know is that Jimmy Choo and a whole heap of other leading brands (including Fendi, Giuseppe Zanotti and Charlotte Olympia) are happy to sell their shoes at a substantial discount to consumers via leading online retailer Bluefly.
The heels pictured here are Jimmy Choo's Abel, a four inch heel in metallic gold leather. Abel usually retails for $625 but it is available at a 20% discount via Bluefly for only $500
. As an added bonus, Bluefly is currently offering a $50 discount to orders over $300 with no exclusions (the offer code cannot be combined with any other promotion). Follow the link for further details.
The usual warnings with discount sites apply to Bluefly: don't expect to see the full range of a designer's products on the site, and don't expect a full range of sizes for each product either (that said, the metallic gold Abels are currently available in all sizes except 6.5
). But if you're prepared to hunt around many designer shoe bargains may come your way, and that sure beats paying full price.