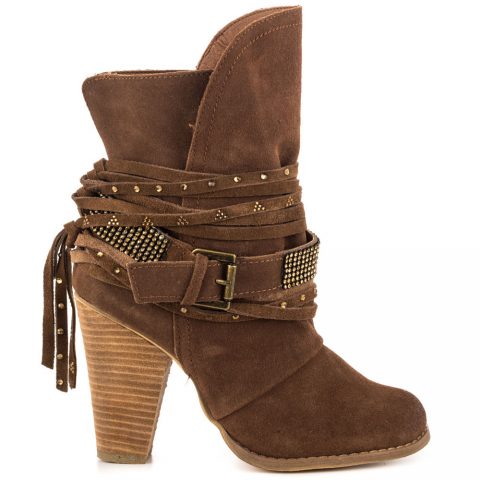 Naughty Monkey's new leather boots may have only just hit the ground at heels.com, but they've already sold out in size 7. That's a sign of a great shoe if ever there was one. If you'd like to know more about this 4 inch, stacked heel boot then read on below. If you just want to pick up a pair before they sell out in your size, head straight to heels.com where they retail for $109.99.
Santa Anna is the name of this awesome boot. You'll see that in addition to its sturdy block heel, Santa Anna features a rich tan suede upper, fun studded straps and sparkling mesh stones.
This boot is from Naughty Monkey, a brand we haven't featured before on highheelsdaily.com but one I'm sure we'll see again soon. The label aims to blend trendy with affordable, to produce footwear that has both character and glam. I think they've certainly pulled it off with this heel! If you'd like to check out other pieces from Naughty Monkey there are currently 121 different Naughty Monkey shoes at heels.com. Go nuts.