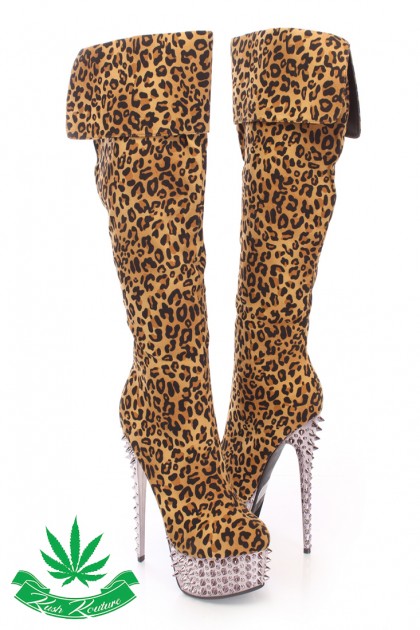 Leopard print boots are fun and fashionable, and with AMI Clubwear you can get the animal print look for less. Here's a baker's dozen leopard print heels for the discerning fashionista, starting with the above spiked knee high boots in faux suede for $64.99. The cuffed knee high boot is a real trend this year, and these shoes also feature a 6 inch heel with a party-ready 1.75 inch platform.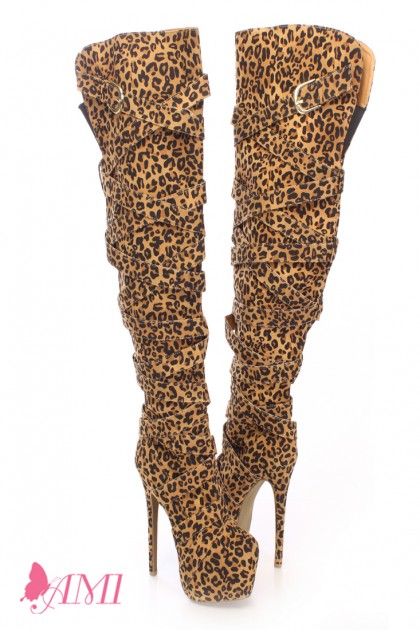 Boot #2 is a wrap around strap thigh high leopard print boot, with a 6.5 inch heel and 2.5 inch platform. The feature of this boot is a wrap-around buckled strap design. AMI Clubwear retails this heel online for $74.99.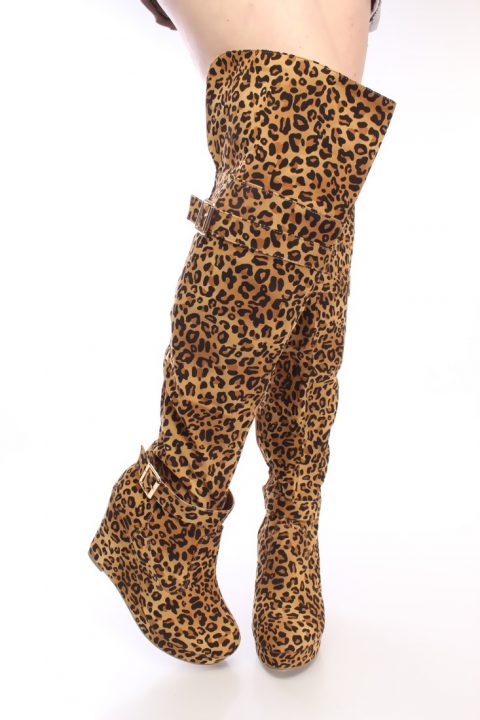 Come back to earth with boot #3, a leopard print thigh high boot with a wedge heel. The wedge is 4 inches atop a 1 inch platform, and you can pick up a pair for $54.99.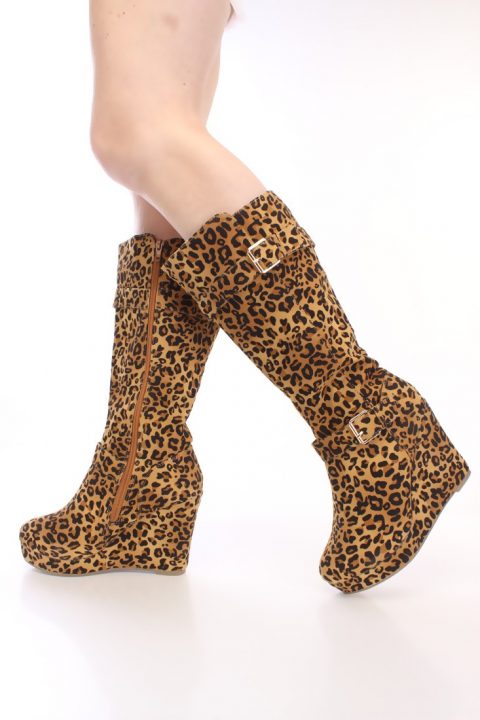 The leopard print mid-calf wedge is also popular and it is the cheapest boot of all at $34.99.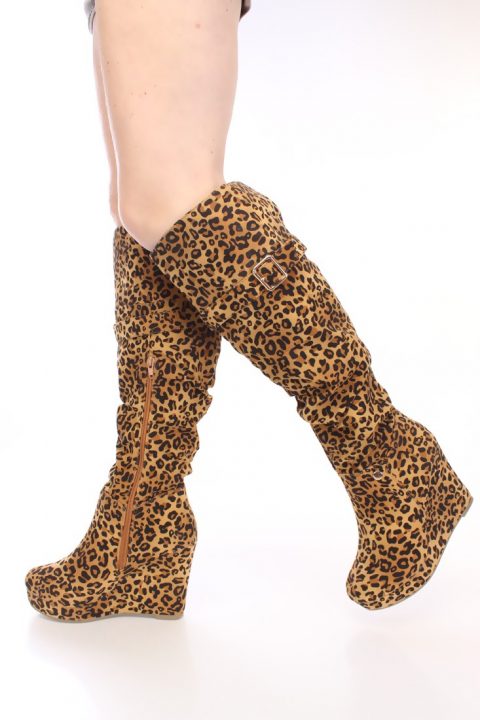 Boot #5 is a slouchy version of the leopard print wedge boot, again with the 4 inch heel and 1 inch platform. It retails for $44.99.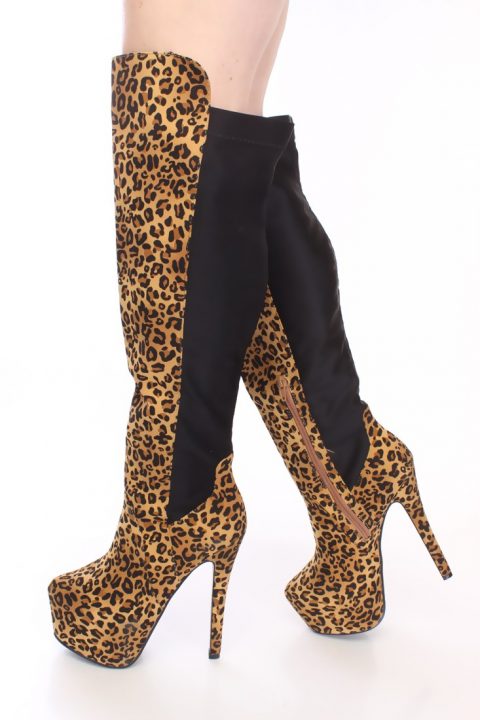 Coming in at #6 is a leopard and blank printed knee high boot. This contrasting boot has a 6.5 inch heel with a chunky 2.75 inch platform and an affordable price tag of $54.99.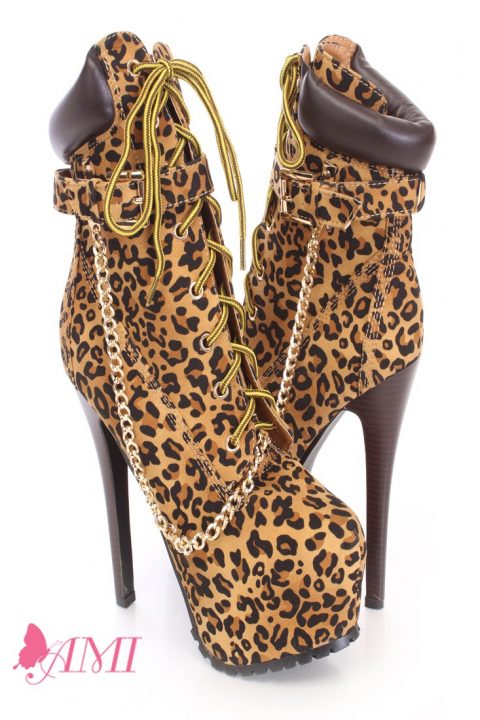 The hard core lace-up leopard look platform bootie is the first lace up we feature. It has a 6.5 inch heel on a 2.5 inch platform and is available for $64.99.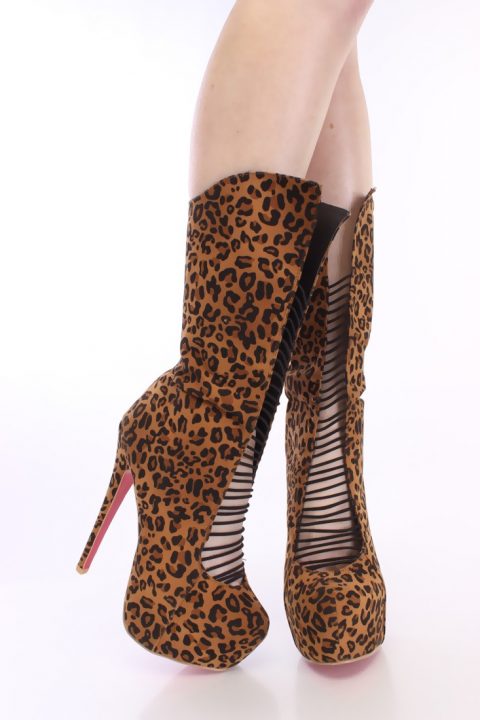 #8 is an on-sale, cut out, mid calf boot: it's only $34.99.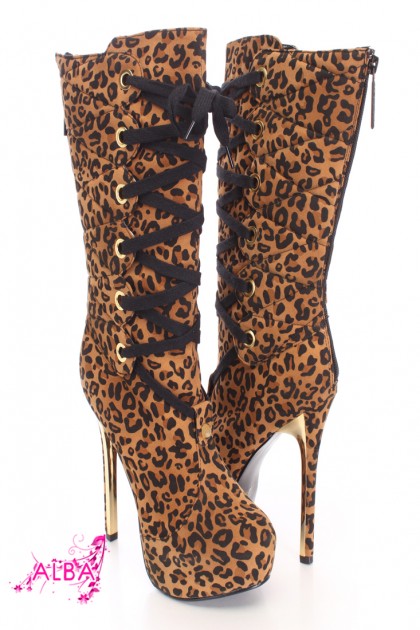 Finally, a prominent lace-up look is the feature of leopard print boot #9. The heel on this boot, which retails for $69.99, is 5.75 inches with a 1.75 inch platform.