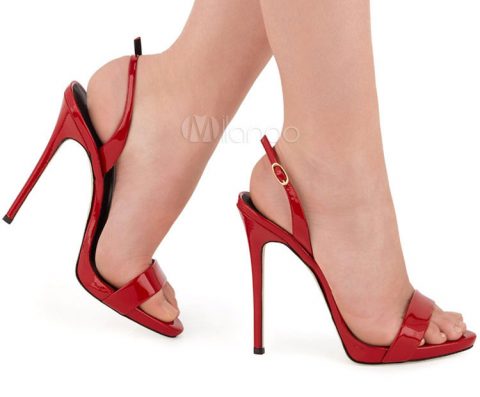 The best things in life are not meant to be easy. A good slingback heel often fits in that mantra. (Photo credit: Milanoo – shop slingbacks here, through our affiliate link).
Slingbacks often get a bad rap. They can be as  difficult to walk in as any high heeled sandals. The strap can rub and hurt the back of the foot as badly as a new pair of thigh highs.
The absence of an ankle strap gives a slingback all the security on the foot of a mule, which is to say: almost none.
But when they are done right, there is nothing more beautiful than a slingback heel. The key is a thin strap around the back of the heel, which flexes with the foot slightly as you walk.
Get the strap right and you can do anything with a slingback – a closed vamp, peep toe or strappy sandal frontage are all in the game.
But get it wrong, and things get messy. A strap which rubs will make a night in slingbacks simply hellish. It is very difficult to stick anything to the feet to stop the rubbing because it will be highly visible.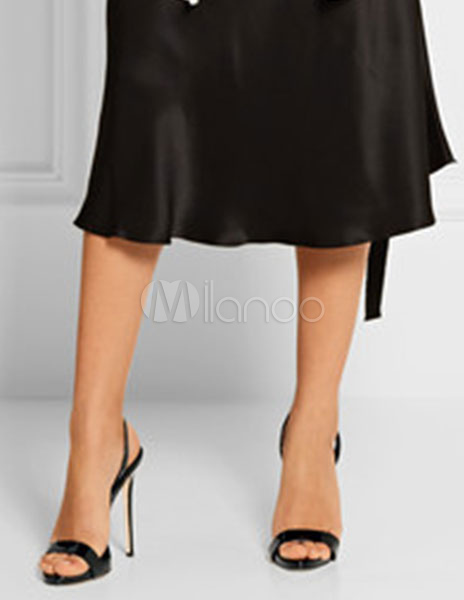 (Image credit: Milanoo – buy these black slingback sandals via our affiliate link).
Some say the answer to the perfect slingback in thick fixed straps, but it is difficult to buy that. What this really creates is not a slingback at all but a pump with the bit of the back cutout.
Finally, the other essential part of choosing a slingback is to make sure that the heel is a stiletto. It doesn't actually have to be toweringly high but it does need to be thin.
The idea is for the delicate and thin strap and heel to help make the ankle look dainty too.
Good luck in your quest to find your dream sassy slingback.