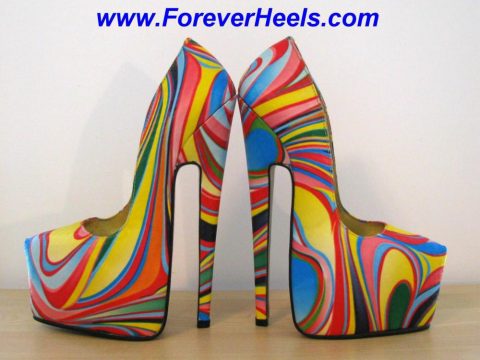 I hate those days when I can't decide what shoes to wear. For a radical solution to the dilemma, how about rainbow heels? These high heels are legitimately nuts – they're all the colors of the rainbow and equipped with an 8 inch heel that is right on the fringe of lunacy. But they are rather pretty at the same time.
The shoe is the H20SA from www.ForeverHeels.com, and their designer – Peter Chu – has an engineering background. These skills have clearly been put to use as the enormous heel on these shoes is countered with a clever hidden platform which increases proportionally with smaller sizes. However, for those who think that an 8 inch heel is too high, the shoes can be manufactured with a smaller heel by request.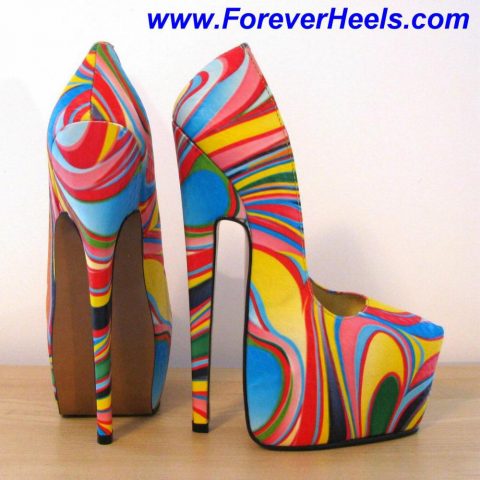 The high heels themselves are amazing, artistic eye-candy. The pattern on these colored heels reminds me a little of something from the 1960s or 70s, stirring thoughts of flared trousers, flower power and the music of Sgt. Pepper's Lonely Hearts Club Band.
The high heels are individually produced (the process takes 3-4 weeks) and come in a wide variety of colors as well as the rainbow option. You can select the type of sole, and also whether you want the heel to match the body of the shoe or some other combination. If you're looking to inject a bit of color and a lot of life into your day, these rainbow high heels are available from www.ForeverHeels.com for $CA310.