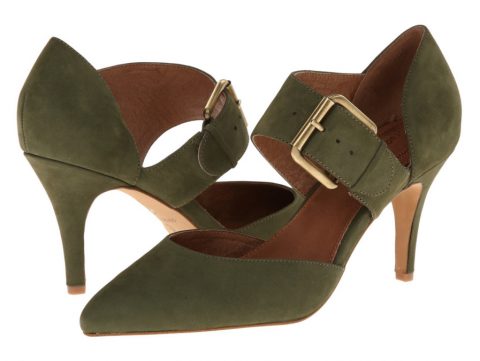 Carmina from Corso Como (new to Zappos for $139.95 with free shipping
) leapt out at me as one of the picks of the week's new crop of high heels. What's not to love about this 3 inch heel with soft leather upper? Carmina's on-trend big buckle is stylish rather than ostentatious, mixing perfectly with the green nubuck upper and cross-strap.
The shoe is from the Corso Como label, a brand which promises style with a conscience. Corso Como uses recycled paper in its packaging and has also committed to donate an unspecified portion of every sale to charity, to advocate various environmental and social causes. 
Corso Como also promotes one other major selling point: comfort. The brand promises nothing but top quality materials, soft linings and a comfortable sole.
Perfect for the day or night, Carmina is also available in black nubuck for $139.95
.