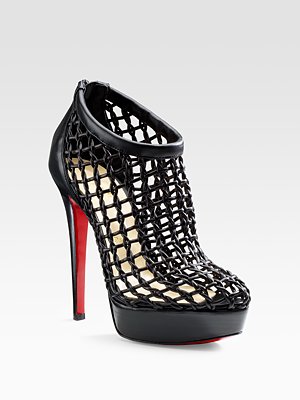 Much like the phenomenon of the "it" bag, there are shoes that now and then achieve the status of being a celebrity favorite. In 2010 one of these styles is the "Coussin" caged ankle booties by Christian Louboutin.
The shoe is the meeting of three spring trends in one. The are a high-heeled pump whose ankle height falls in that mid-point between boot and shoe – hence the term "bootie." The style is one of the most common of the season and commonly comes with a peep-toe. The Coussin isn't peep-toed, but it certainly allows your feet to breath with its airy cage construction.
The caged boot is another common sight on spring shoe racks. Louboutin did the cage for this version with what looks like leather laces – allowing the style to retain some feminine appeal. Lastly, the Coussin features a 1.5-inch platform, which adds support for the 5-inch stacked heel.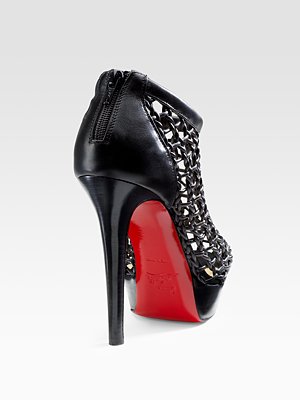 The Coussin boot has a hefty price tag of almost $1,600.  Accordingly, you'll see them most often on extremely well-paid actresses, musicians, and other female celebs. Movie star Gwyneth Paltrow was spotted wearing the shoes to an art opening in New York City. The pair have also been spotted on the red carpet and at other high-profile events on the feet of Elle McPherson, Kim Kardashian, and Blake Lively. Singer Latoya Luckett was seen out and about wearing a rare red pair. Most of us mere mortals would have to settle for black, tan, or beige if we wanted to shell out the cash for these beauties. Those are the only colors in stock in limited quantities online at saksfifthavenue.com and barneys.com.