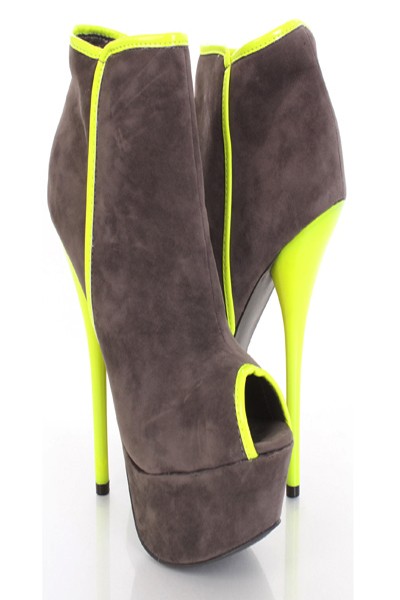 Today we're launching a new segment here at HighHeelsDaily.com, our High Heel Bargain of the Week. Our peeps are always scouring retail websites looking for the latest high heel trends, and when we see far too many seriously cheap or discounted shoes not to bring at least one a week to our readers' attention. We'll be aiming to cover all ends of the cost spectrum in writing these pieces (not just the zillions of lower-end bargains that are out there in small sizes, but anything we think is a must-have for the price – whatever the price)!
We plan only to include items which are available in a reasonably wide range of sizes in this section – at least at the time of writing – so as to not waste anyone's time. So if you've seen a pair of heels that are too good to miss at the price tag, snap yourself up a pair and then please let us know – stat!
We kick off with a pair of impossibly saucy grey peep toe booties with a faux suede upper and dancefloor-happy black, light-sensitive neon trim. The booties have approximately a 6 inch heel with a 2 inch platform and they're on final sale (no returns, exchanges or promo discounts). The booties are available at
AMI Clubwear for only $12.99 a pair
. That's practically stealing. Enjoy your week!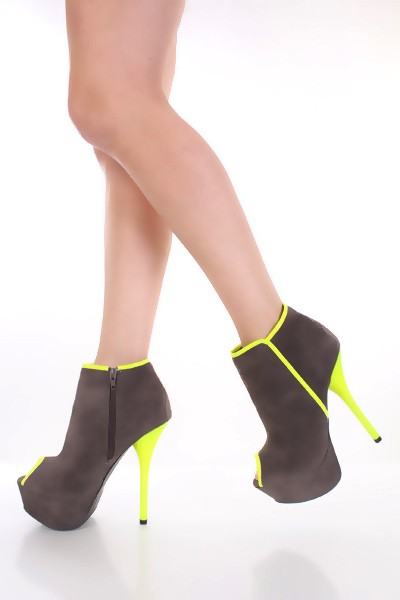 NOTE: Prices and availability are correct at the time of publication, but may change.