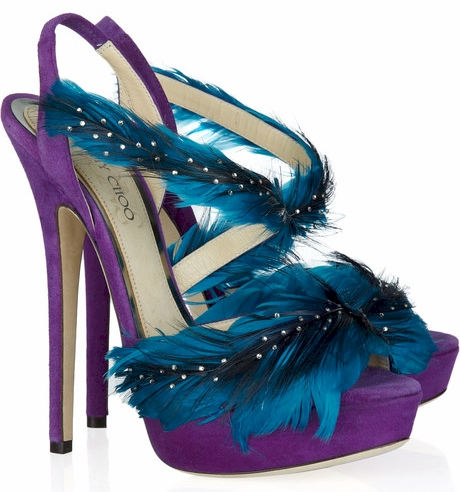 To celebrate 15 years of Jimmy Choo, the brand has recreated some of its most-sought after styles for the Icons collection. Each iconic shoe has been been "evolved" or "re-imagined" to produce a version of the high heel as they would look in today's styles. We'll be taking a look at a few of these incredible high heels over the next few weeks.
Remember the "feather shoe" from Sex and the City? The shoe quickly gained iconic status when Carrie Bradshaw lost one running to catch the Staten Island Ferry. "Wait! I lost my Choo!" became one of the show's immortal lines.
The feather shoe has undergone the re-imagining process to become Marlene for the Icons collection. The shoe – with hand-applied feathers and crystals – has gained a platform and a 6 inch heel in the transformation process. Jimmy Choo founder and Chief Creative Officer Tamara Mellon explains:
Iconic status does not come cheap: Marlene retails for £1,277.10 from net-a-porter. However, as with all items in the Icons collection, 10% of net sales will go towards the Jimmy Choo Foundation which supports a number of women's charities.