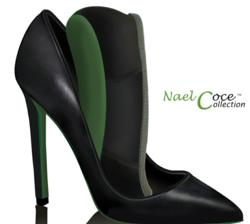 Is this the finally the solution to the problem of needing to carry around both flats and heels? Unlike previous solutions such as detachable-heeled pumps, Sheena Young's clever new Ambi Platforms  are genuine, four inch pumps that happen to come with a built in flat shoe. To wear the pumps, you use the flats as a (concealed) insole. To wear the flats, simply take off the pumps.
These green-soled heels are certainly original thinking. Unlike with detachable-heels, there's no compromise in the style of the heel because it doesn't change when you swap to the flats, and vice versa. These really are two shoes in one.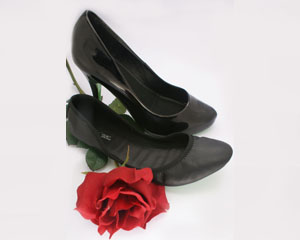 The shoes are also eco friendly, with the insoles are made from a natural, lightweight organic fibre with anti-bacterial features.
While the brand is in its early days – with more styles from the Nael Coce Ambi Collection to be unveiled shortly – it is a promising and fascinating start. The Ambi Platform (pictured directly above) is available from the brand's website for $70. The pump has a four inch heel with a half inch platform and of course the price includes both the heels and the flats.