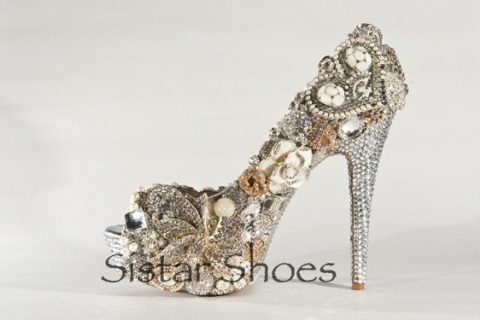 If there was an award for the most blinged-out bridal shoes on the planet right now then these high heels would have to go close to winning it. The peep toe shoes are the Starstruck Glitz, a handcrafted piece of wearable artwork from Sistar Shoes.
The shoe is made from crystal brooches with dozens of rhinestones, pearls and silver decorations combining to create a seemingly dazzling effect. Flowers feature prominently and there is a love heart which stands out at the top of the decorated heel. Starstruck Glitz retails from the Sistar Shoes website for $AU450.
The Sistar Shoes brand is relatively new, although they have now been selling and designing shoes online since 2010. Run, as the name would suggest, by two sisters, the brand already claims Lady Gaga and Paris Hilton as satisfied customers (Paris chose the closed-toe version of the Starstruck Glitz). The sisters are currently working on high heels for Mariah Carey and Jennifer Lopez.
The brand is based in Australia, but the owners have just got back from a successful promotional trip to America and told highheelsdaily.com that they are currently working on some breathtaking new designs. Bring on the bling!