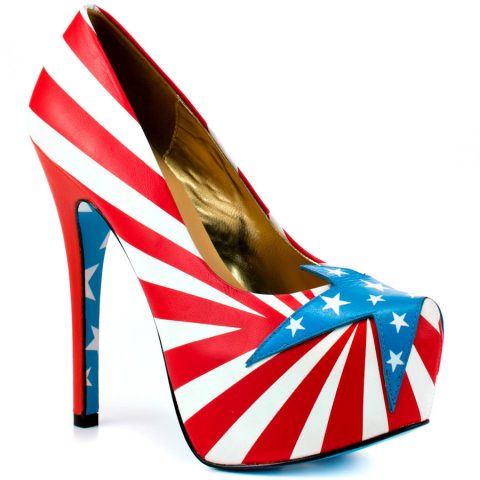 The star spangled banner has featured on just about everything and everywhere over the years, so why not on high heels? For those feeling in a patriotic mood, today we present two different takes on the American flag high heels – one more top-of-the-line and one that's dirt cheap.
Our top shelf pick is the Brossie from Taylor Says, which is relatively new to heels.com. The reference to the American flag is obvious, but it is with a real designer twist. The stars – or some of them – are represented on the blue cut-out star feature on the vamp of the shoe, and also on the inside of the heel. Meanwhile the stripes have been twisted into a red and white sunburst pattern on the leather upper, focussing in on the toe feature.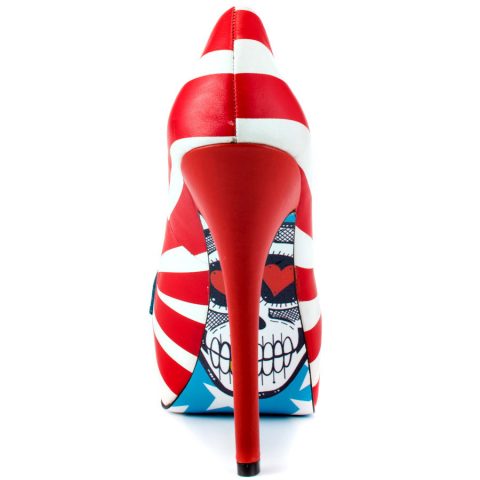 As if these features were not enough, there's also an exclusive skull design on the leather sole. These shoes have a 5 1/2 inch heel and 1 1/2 inch platform to really help you stand out from the crowd whether it's on Independence Day, a day you're feeling particularly patriotic or just because. The Taylor Says Brossie is available from heels.com for $199
.
[youtube=http://www.youtube.com/watch?v=-jyidjXIRnM]
For a cheaper option, how about the cloth high heels from Milanoo (below)?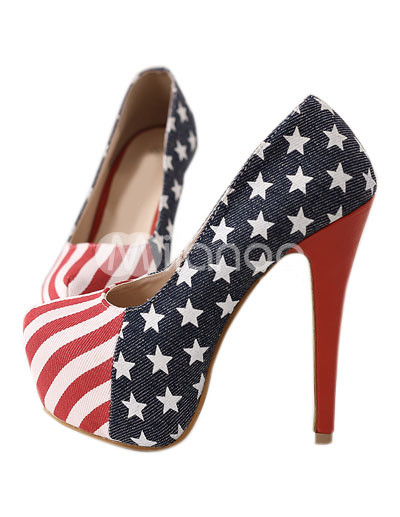 Although these heels perhaps lack the designer touch, they make an equally bold statement in the flag department. The upper material is made of cloth and the stiletto height is 5.9 inches (details of the platform height are not available). These rubber-soled party high heels are available from Milanoo for only $24.99.