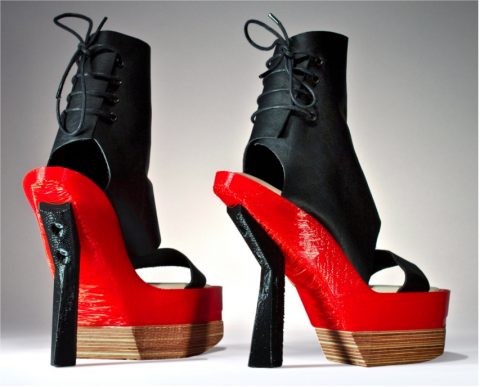 Highheelsdaily.com has just caught a glimpse of what may be the next generation of shoe design when we were given the opportunity to review the latest Shoes by Bryan heel design by Bryan Oknyansky.  These unique high heels have been created through what it is fair to say is the absolutely pioneering use of 3D printing. Particularly given this new medium at play, Oknyansky has managed to successfully create an extraordinary fusion of technology and beauty in these works.
Progressing from the designer's critically acclaimed debut collection Heavy Metal Series, Oknyansky has been focusing on manufacturing his designs using 3D printing, one of the latest technologies and buzz words in the fashion industry.
Shoes By Bryan's newest design "Split Heels" was showcased during London Fashion Week SS13 and the heels were worn as part of the Fashion Fringe 2012 winning collection; a pair of strikingly colourful 3D printed chunky platform high heels fashioned out of eco-friendly bio-plastic and were made possible by a partnership between 3D systems, the leading global 3D printing solution provider, and Shoes By Bryan.
This collaboration is a breakthrough for the next generation of footwear design, and the global pursuit of increasing the use of 3D printing, a technology that seems like it will increasingly by integrated into everyday lives in the future. The 3D printers used to produce this collection hint at how close we are to empowering consumers in the future to rapidly design, create and produce with confidence, shoes directly from digital designs in their homes. This is something that was unable to even really be contemplated only a few years ago.
The good news is that "Split Heels" are the first ever Shoes By Bryan designs you can actually buy. The best thing about "Split Heels" is that you can style them yourself. You can design your split heels with up to three colours, one each for the outer sole, the platform and the heel spike. Furthermore, Oknyansky  promises that yours consumer's style is unique then the shoe they design will be named after them! "Split Heels" are slated for international sale this spring but the designer suggests that if you absolutely cannot wait then you should email sales@shoesbybryan.com and he should be able to accommodate you.
Split heels are available made to order. POA.
For more see:
www.shoesbybryan.com
facebook.com/shoesbybryan
@ShoesByBryan