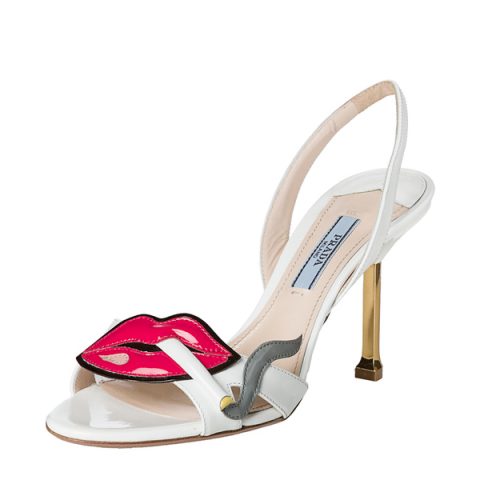 Call me judgmental, but I'm not much of a fan of women who smoke and I cannot abide people who wear ugly high heels. So these hideously ugly smoking lips high heels from Prada were always going to have their work cut out for them to make me like them. They failed.
The shoes came out in 2012, with some strappy sandals as well as these slingbacks being part of the smoking lips release. At the time there was plenty of tut-tutting about the shoes being seen as glamourising smoking. I always thought that was a bit of stretch because it's hard to see this shoe as glamorous at all. It's not quite as ugly as smoking, but it comes pretty close.
Anyhow, it seems that the smoking lips shoes were a commercial as well as an asthetic flop because I've just found them on Overstock.com, at what must be a fairly substantial discount. They're available in white and red for $449.99. Personally I think describing them as a "moderate sellout risk" is optimistic, but if you have more money than taste then that's where to get a pair.
The Prada smoking lips slingback has a 3.5 inch stiletto, patent leather upper and leather lining.