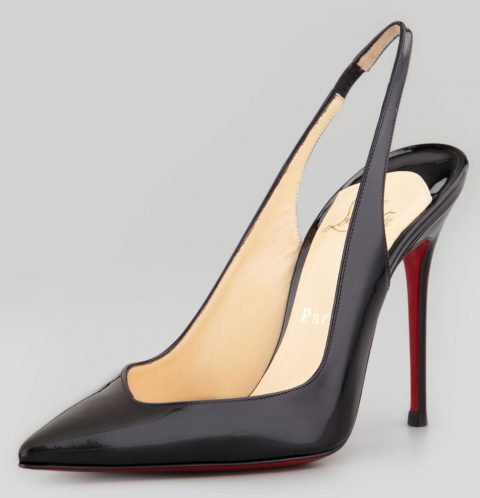 When I saw these new slingbacks from Christian Louboutin, one thing came immediately to mind: toe cleavage! Nobody does toe cleavage like Louboutin, and these high heels reveal just about as much of it as any of the Master's shoes.
Not that Christian Louboutin doesn't know what he's doing and why. Louboutin's shoes are almost all engineered to deliberately show generous portions of the "third cleavage" as he calls it. Last year he even explained the method behind these daring cutaways, as part of the 20th anniversary of his label. Asked about toe cleavage, Christian Louboutin explained:
"[T]he word cleavage, first, comes [from] woman in this part [here the designer indicates towards his (boob-less) chest].

"The second cleavage of a woman is [her] bottom — the arse.

"And the third possible cleavage is actually that one [here Louboutin strokes his fingers along the toe-cleavage part of one of his pumps]. And what makes a toe cleavage becoming quite sexy is this very simple thing that it is about suggestion and it is a suggestion about another cleavage."
You can view the full Christian Louboutin interview here:
[youtube=http://www.youtube.com/watch?v=ZQBseu0c_t0]
As for the toe-cleavage slingbacks, they are new to Louboutin and called Flueve. The sharply pointed toe is mirrored and accentuated with a V-cut vamp which reveals enough of the third cleavage to leave most men breathless.
Flueve has a patent leather upper, Louboutin's signature red sole and a 4 1/2 " covered stiletto heel with a sexy narrow slingback strap. Made in Italy, it's available on pre-order from Neiman Marcus for $625.