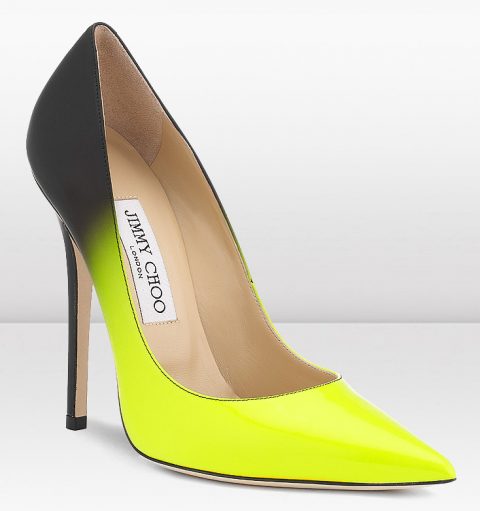 Jimmy Choo's Anouk is fast becoming the label's signature shoe, much like the Pigalle is to Christian Louboutin as we've noted before. And if Choo's pre-fall collection is any indication then the brand seems to be continuing to evolve and expand the Anouk's colors and range.
This coming season Choo have made extensive use of the dégradé technique by which one color is faded into another in a gradual shading or regression approach rather than a clear demarkation. It's sort of the modern version of a tie-die look rather than the clean lines of a color block. The  matt black dégradé on neon patent yellow Anouk shown above is a stand out example. It's available for pre-order from Jimmy Choo for €525.
Like all Anouks, the black / yellow neon dégradé pair have the shoe's signature shape, a pointed toe pump with a 4.7″ heel. There are also a couple of other Anouks in the pre-fall 2013 collection from Choo that have caught our eye.  Check them out below.
This black suede and silver Anouk continues the dégradé theme. It's available for pre-order from Jimmy Choo for €525.
If you're not quite ready to embrace the dégradé look in your shoe collection, then the pre-fall 2013 collection also includes this Anouk in black suede with silver micro studs. You can pre-order from Jimmy Choo for €695.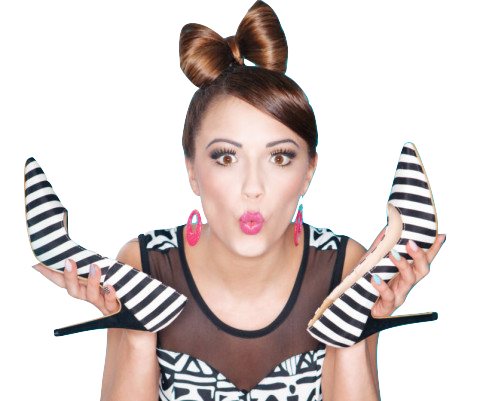 Learn to walk in high heels more comfortably
Master the skill of walking in heels without wearing them every day!