Heel heights just continue to get higher and higher, and these 6 inch fetish sandals are no exception.
Their thin metal dagger heel is designed to both tease and torment, and probably to hurt like hell for any bystanders that might accidentally get trodden on.
Come to think of it, wearing this heel for long periods might not exactly be an exercise in comfort so much either.
This six inch heel is definitely made for the woman with a high arched foot in mind, and one with excellent balance or a high pain threshold or both.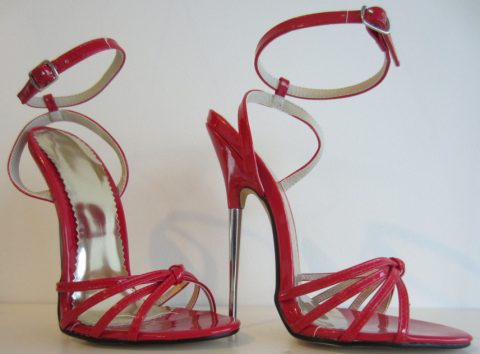 Like all good sexy 6 inch sandals this shoe is designed fully reveal the sexy arch of the wearer's foot for all the world to see.
On a practical level it is also engineered to securely bind the wearer's foot — because falling from such a height is a really bad option… So the shoe is part sexuality and part sensibility, but mainly the former if we're truly honest!
Do you think you could walk in these naughty bedroom sandals? If you feel game to take up the challenge you can buy a pair of Red Knotted Ankle Strap Patent Leather Women's Sexy Sandals from Milanoo (affiliate link).
The heel height is officially 5.9 inches and the upper material is made of patent leather. The heel is all metal and dangerous with it.
Definitely a shoe for the woman who is happy living her life on the edge.
And it's definitely possible to walk in them, as this video shows. Even down stairs.