There are so many styles and features going on in these hot shoes that I'm not quite sure to start. Is it a hopeless hotchpotch of far too many trends all at once – the geometric wedge heel, spike details, huge platform and cut-out high heel sneaker – or is this a madness match-made in heaven?
From the side, the dominant feature of these high heels by Privileged are the artfully cutout geometric shapes that make up the striking 6.5 inch gold wedge heel. The wedge begins by flaring off from a 2 inch platform, proving that the platform trend is here to stay and still going strong. But from the front the shoe is another thing entirely.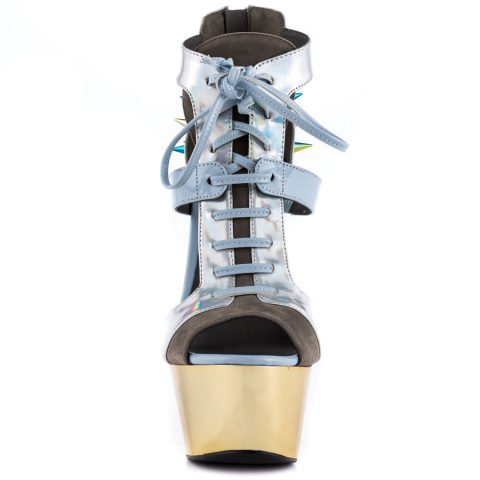 Front-on, the shoe is 100% a high heeled sneaker, with funky laces matching or complementing the colour of the body of the shoe. The large peep-toe is another feature that is obvious from front on.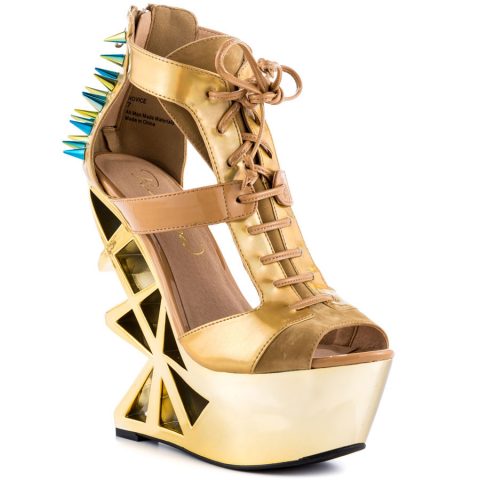 One more trend that you won't fail to spot are the cheerful spikes sticking out of the back of the shoe. If you're looking for a shoe with everything, then it's hard to go past this offering from Privileged. And it seems they're pretty popular, so get in quick.
The Novice from Privileged is new to heels.com for $124.99. It is available in fuchsia, tan and grey.