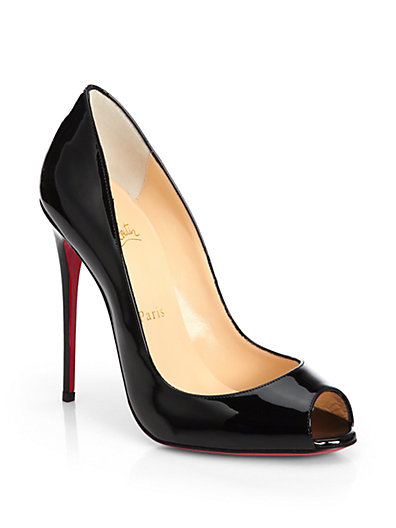 Here's an early contender for the most coveted high heel of 2014, and there's no surprise that it comes from Christian Louboutin. Meet the Youpi peep toe stiletto with 4.5 inch self-covered heel, which is now available online at Saks for $625.  In a pretty sure sign of things to come, some sizes have already sold out even though the shoe is only available on pre-order at this point in time.
Youpi is the most beautiful peep toe we've seen Christian Louboutin make in recent memory, so it is little wonder that the shoe is being snapped up. Its mirrored patent leather upper evokes comparison with Louboutin's most famous shoe – the Pigalle. The thin stiletto heel looks a lot like Louboutin's sexy so So Kate pump (although Youpi is half an inch shorter, making it easier to walk in). And all three high heels have the same price tag of $625, and bear the designer's signature red leather soles.
The Youpi is hand-made in Italy and has a leather lining and padded insole for comfort. The shoe can be pre-ordered from Saks right now. And, in case you're wondering about the name, Youpi is a French expression meaning "yippee!" or "yahoo!" which seems quite appropriate. Youpi! for Youpi indeed.