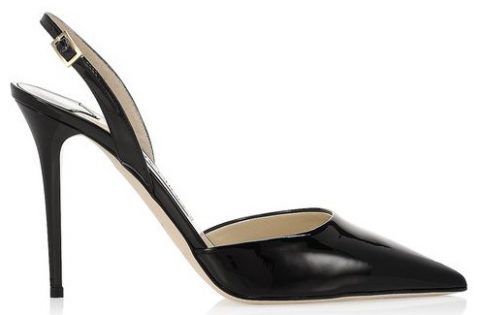 A single-soled, simple slingback – what could be better than that? Not much if you ask us, and Jimmy Choo's Spring Summer 2014 collection is right on board with the trend. This is Tarida, a new patent leather slingback high heel from Choo's SS 2014 offering. The black version of the heel is perfect for both work and play, and could potentially become a wardrobe staple. The story doesn't end there though as the shoe is also available in three other, more exciting colours which are pictured below:  a fiery neon flame, elegant taupe suede with dégradé glitter and a deep blue bottle (more pictures below).
The Tarida slingback has a 3.9 inch high heel and retails from Jimmy Choo for €395. We tell you why we think Tarida is perfectly on trend for Spring Summer 2014 below.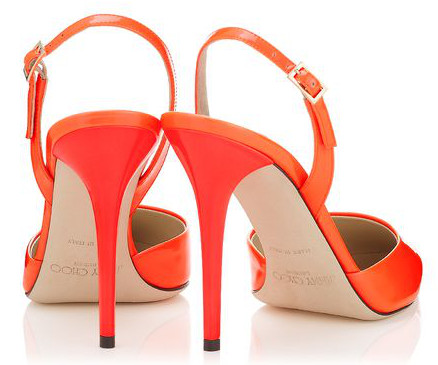 So what is it that Jimmy Choo has got so right with this slingback pump? First, it's simple and it's single-soled. While we think that platforms will still have their place in the coming seasons, the trend is very much heading back to single-soled (ie no platform) high heels. Similarly, there is a developing trend back to simplicity in shoe design and colour schemes – a move away from multi-colours and the colour-blocking trends of years gone by. Simple single coloured shoes are set to be a trend for 2014.
Top designers have the courage to pull off both complicated – even audacious – high heels and very simple ones. We cover a lot of heels on this site, including many spectacular, complicated and embellished numbers. But time and time again recently our most popular articles have featured beautiful, simple designer heels. This trend is undoubtedly coming fast, and Jimmy Choo has tapped right into it.
There are no surprises then that fashionistas are on board: no less than SJP has been right onto the movements towards simple designs and single soled pumps. "Trust in the simple," Sarah Jessica Parker told WWD  when announcing  her own shoe collection late in 2013. "I was so happy to support the single-sole shoe again." Yup.
A final feature of Jimmy Choo's Tarida slingback that should make the shoe popular is its open arch. The trend towards cut-away heels is continuing this year, either as slingbacks or as d'Orsay pumps. We are confident that revealing arches will be a mainstay of popular women's high heel footwear this year. For that reason too, Jimmy Choo has this stiletto ticking all the right boxes for fashion trends. This shoe will be massive. Watch this space.