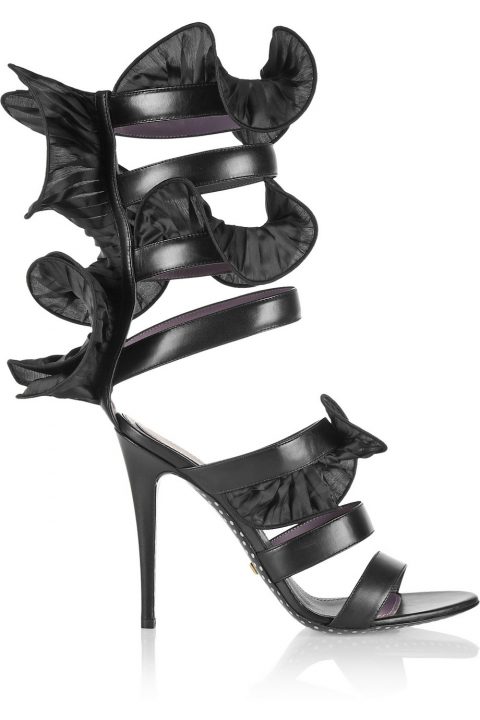 Longstanding French brand Emanuel Ungaro has arrived with a splash at Net-A-Porter. The label is brand new to Net-A-Porter which is currently stocking only one pair of stilettos, plus some designer sweaters and skirts. But what a pair of shoes it is: 4.5 inch, wrap-around, leather sandals with pleated organza ruffles! The heels are from Ungaro's Spring / Summer 2014 collection and they're certainly proving popular: most sizes are already sold out or in limited supply despite the product just arriving. If you'd like a pair, they're available at Net-A-Porter for $1,645.
The sandals may be new, but the label they come from was founded by Emanuel Ungaro himself way back in 1965. The House of Emanuel Ungaro has been based on Avenue Montaigne in Paris's couture fashion district since 1967, although Mr Ungaro departed in 2004. The heels above were produced under the the Sicilian designer Fausto Puglisi, who has been the Creative Director of the Emanuel Ungaro brand for about a year. Puglisi was reportedly hired to get the Ungaro name back on track, and so far it looks like he's going well. It is obviously early days but having a pair of designer stilettos look like selling out quickly on Net-A-Porter is a good sign.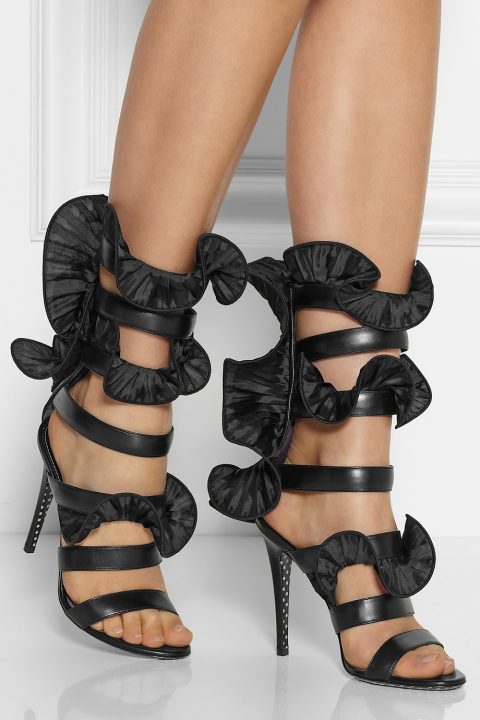 Net-A-Porter also recently featured the sandals on the feet of actress Zoe Saldana. The shoot was for the 13 March 2014 edition Net-A-Porter's magazine The Edit, which has Salanda on the cover. Click on the link to go to the magazine. The picture of Salanda in Ungaro is below.