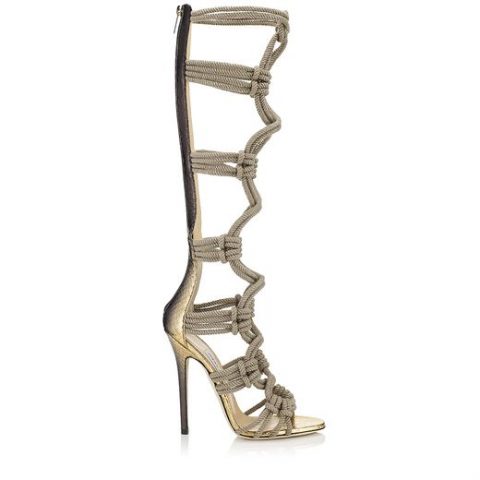 Jimmy Choo's Catwalk Collection for Spring / Summer 2014 has arrived in store, and there are some hawt numbers included. None more than Keane, the bondage-sexy knee-high rope sandals which we've featured above. The intricate knotting details which comprise the uppers of these €1,395 high heel sandals are hand-constructed entirely from rope, but Jimmy Choo promises they will still provide enough support for a comfortable fit.
The knotty stilettos certainly look sensational on the long legs of Academy Award winning actress Nicole Kidman who returns to showcase a Choo collection for the third time. Nicole is photographed here in the rope gladiators by famous photographer Sølve Sundsbø. There are more glimpses of Nicole and the  Keane heels in the video celebrating the launch of Jimmy Choo's Spring / Summer 2014 collection which is at the bottom of this post.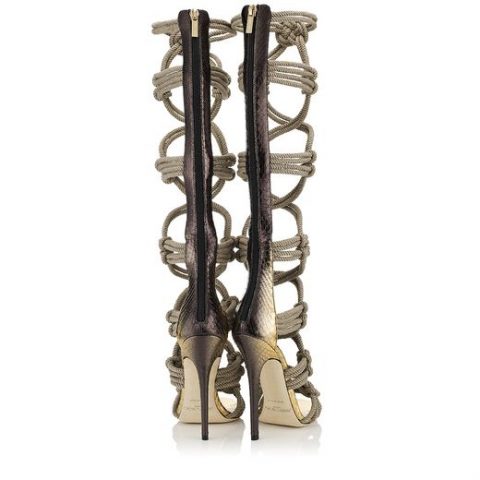 The best news (in case you were wondering) is that you don't have to knot up these black and gold elaphe and rope stappy sandals every time you put them on! There's a long zip fastner at the rear of the shoe, which also features the degrade patterning that we've seen on Choos in recent times. And the use of rope is not a Fifty Shades throw-back: the "modern jungle" is the inspiration for the 2014 collection, so its more a nod to Tarzan I guess.
)