We love a good news story at HighHeelsDaily.com, and today's comes in the form of recently-launched Australian-based footwear brand Jaspa King.  Jaspa King is the creation and pride and joy of co-founders Jalni and Sarju Shah and was launched in 2013 in Sydney, Australia.
The Jaspa King concept is essentially affordable luxury: really well-designed shoes using top-class materials, but without the huge mark-ups that big-name designer brands get away with. Hence the label's signature shoe the New York (pictured above) retails online for around AU$300 (currently about US$275). Other stand-out items in the original Jaspa King collection include pointy d'Orsay pumps (Columbia) and a pretty berry-suede peep toe pump encrusted with crystals (Seattle).
Judging by the brand's website alone, an enormous amount of time and effort seems to have  been put into getting the look of these shoes just right. This seems to be a fairly slick operation for a company in start-up mode, and it cannot have been cheap to get here. It is all-round a most encouraging investment in the Australian footwear industry.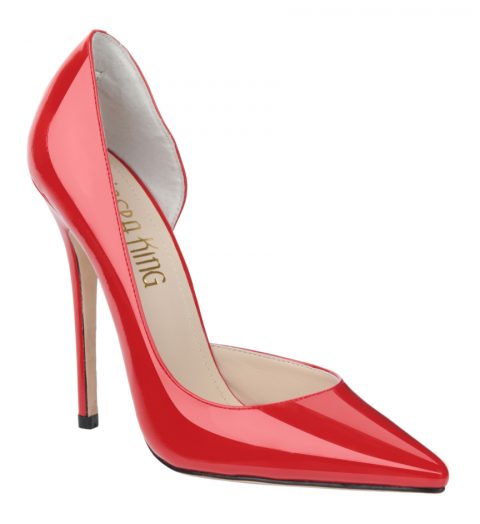 Of course one challenge with retailing stilettos at the price point that Jaspa King does is that customer expectations as to quality and service will not be low. These are certainly not your average run-of-the-mill high heels but we were curious to know more about the concept behind Jaspa King, and the price point. Co-founder Jalni Shah kindly took some time to answer some of our questions and the interview transcript is below. Our thanks to Jalni for taking the time to speak to us, and best wishes with taking the Jaspa King brand to the world. We hope to feature you again soon!
HHD: Your pumps retail for AU$299, which is considerably more than your average $100 pump but still half the price of big-name designer shoes (so the New York for example at $299 compares favourably with Choo's Anouk or Louboutin's Pigalle 120mm, both at around US$600). It seems there has been a bit of bifurcation in the world of high heels into a glut of very cheap heels ($30-$99 say) and lots of really expensive ones ($600-$1,000 or more),  leaving quite a gap in the middle (ie around the $300 point). Where do you see Jaspa King's position in the market as being and what you think customer expectations are at this price point.
JS: You are absolutely correct – There are plenty of shoes less than $100 but when we researched these, the bulk were low quality leather (if at all). There is clearly divergence in the market and the masses that produce at this price point compared with the high end luxury retailers indicates the gap in the market. We have crafted these shoes using the highest quality leathers for the leather uppers, cushioned leather insole and the leather bottom sole. Why? We believe that quality can be purchased without paying the $1,200 price point. All of our shoes come with a satin bag, spare heel tips and are sold with free shipping and free returns.
HHD: What are the challenges and opportunities for a shoe designer based in Australia? Do you see the Jaspa King brand catering primarily for an Australian market, or will your focus be on overseas markets?
JS: There are plenty of challenges based in Australia rather than Europe or Asia. The manufacturing industry in Australia continues to struggle and every time we spoke to an Australian manufacturer they could not produce our range, had *really* long lead times or the price was prohibitive. The difference with oversea manufacturers is the push for extensive order quantities and the language barrier. Email and Skype make things easier but the trick is purchasing the expensive samples and then adjusting them. Unfortunately, many of the samples were produced three times due to the language barriers but we got there in the end!
Jaspa King shoes are currently sold in Australia and we are looking to push into NZ, UK and USA. Our shoes have already made their way to Europe and USA so now its about showcasing our brand to the whole market.
HHD: Where are your shoes made?
JS: The shoes were designed in Australia and hand crafted in China due to the shorter lead time verses Europe. On a recent trip to Europe, we have also explored production from Europe and this looks to be an opportunity going forward but again lead times need to be taken into consideration. We do not want to skimp on quality as this is key to our brand positioning.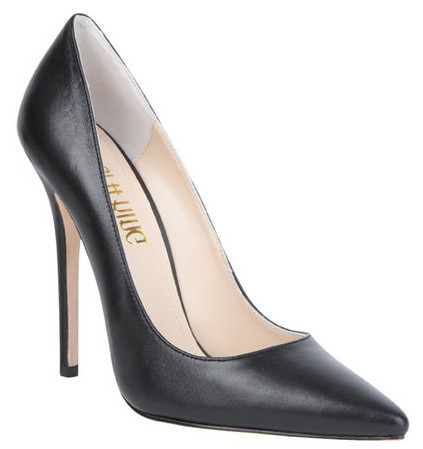 HHD: The New York (pictured above in black leather) is rightly your signature pump. What do you love about this shoe?
JS: The New York represents everything refined in that strong woman; it is striking, elegant and most importantly a classic but simple pump that suits most outfits. It is like the "Little Black Dress"; you need one in every wardrobe. Elegant and sophisticated women like Audrey Hepburn from "Breakfast at Tiffany's" or Grace Kelly from "High Society" conjure up my thoughts on the New York.
HHD: Comfort is a major part of the marketing of the Jaspa King brand, but all your single-sole pumps are 5 inches high. These are great, but do you anticipate increasing the range over time to include lower heel heights (eg a black 4 inch pump or, gasp, even 3 or 3.5 inch) that would be more suitable for every-day wear (eg pumps for work)?
JS: I love high heels but when I went looking for shoes that were elegant and comfy and after searching for years with no luck, I decided to design my own. I cannot be the only woman who wants to look good in heels without the pain. Our current range are definitely "high" but we are also working on a range of flats, smaller heels and strappy sandals to cater for the wider audience.
We are looking at extending our categories with jewellery and leather bags but only if we can find the right manufacturer to cater for our designs. The recent collapse of an Australian designer/retailer indicates the need to maintain quality using a cost effective business model through e-commerce and boutique outlets.
***
Jaspa King high heels are available for purchase online now through the brand's website. All shoes come with free shipping and free returns for 30 days.