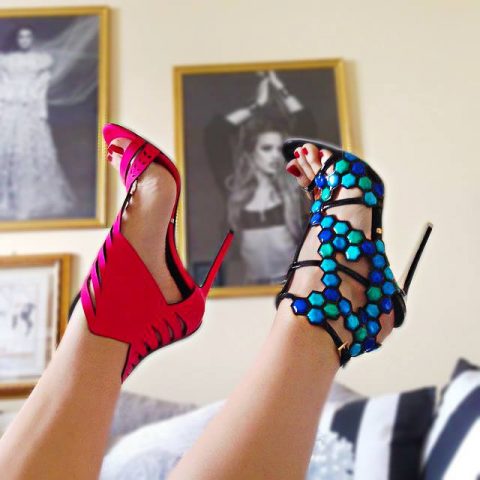 We waited an age for Gianmarco Lorenzi's website to relaunch itself but the day finally came at the end of April 2014. The site had been dead for over a year and so I was kind of thinking that the relaunch might be remarkable. And so it was. But so not in a good way.
The new site opens with a video which stars Lex Anna Olsen and Mia Lucie in what is effectively a lesbian soft-porno film. There's a lot of shiny black latex clothing, some GML heels and assorted fetish wear – gloves, harnesses and so on. And there are sinister looking masks as well. At first glance I thought they were robot masks but perhaps they're horse masks. Anyhow they're creepy.
In the film the girls are gyrating with each other, kissing and mask licking (you cannot make this up). An optional link to an uncensored version of the video for those 18 and over has breasts, oral sex and – I do not jest – some sort of possibly plastic vajayjay. There's some sort of submission / domination thing going on but there isn't really a coherent plot. It's just fucking weird.
The film is appropriately called "Sextatic" (I would be disappointed if it didn't have a name as tacky as its content) and is available on the Gianmarco Lorenzi website. If you're after the R18 version, a link will make itself available to click during the video.
Perhaps this is art. If you ask me, it is more like some art student trying to be a wanker – and doing a pretty good job of it. If this gets you going then great. For my part I'd rather see GML concentrate on making some decent shoes and keeping its website up to date. Check out screenshots of the video below. Just please don't make me watch that shit again.