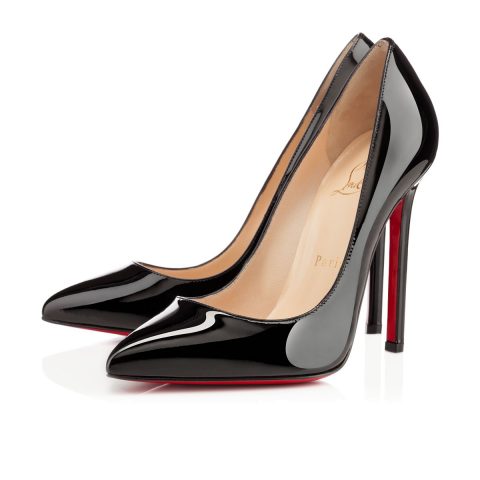 At the 10th birthday party of his favourite high heels, HighHeelsDaily.com reflects on the secrets to Christian Louboutin's success.
Now nearly as famous as its creator himself, this season Christian Louboutin's iconic black high heel the Pigalle turned 10 years old. A sleek, low-cut heel with Louboutin's trademark red sole, Pigalle's soaring stiletto is the designer's most popular heel of his spectacular 23-year career. In an area of fashion in which trends change so quickly, Pigalle's success merits investigation. For despite its longevity and price tag – the basic model costs US$625 a pair – in 2014 the shoes still sell out as quickly as their designer can stock his shelves.
Pigalle was born a decade ago for the European Autumn/Winter season of 2004. That was the same year that Sex and the City ended its run, a show that did as much as anything to spawn society's obsession with high priced designer shoes. Like the creators of this iconic show, Louboutin realised that sex sells: everything about Pigalle is at least faintly sexually suggestive, from its red sole to its highly-reflective black patent leather and thin spike heel. The front vamp is even cut extra low to deliberately reveal generous portions of "toe-cleavage" – the gaps between the wearer's toes that Louboutin has referred to as a woman's "third cleavage" (the other two being chests and bottoms naturally).
The simplicity of Pigalle is, in truth, a shoe designer's deception. Every single part of every shoe is handmade at Louboutin's factory in Italy. It is a labour-intensive affair with at least ten workers involved in creating every pair. Perfection bordering on obsession is the yardstick. The process is in fact typical of high-end, handmade shoes: rival brand Sergio Rossi claims that its heels go through a minimum of 120 different steps before being placed in a box to go to market.
The engineering of Pigalle also defies its simple looks. Louboutin has revealed that a plain pump like Pigalle is actually the most difficult style of shoe to create because it needs to look good on a variety of feet. Last year Sandra Choi, head designer at Jimmy Choo, was quoted to similar effect.
Designers of course have a vested interest in talking up the complexity of what they do, not least a financial interest. Designer shoes have been estimated as having increased in price by at least 50% in the last decade. In 2010 Louboutin blamed the hike on the Euro, telling the Guardian that "[e]verything got more expensive, even bread." Two years later, Louboutin CEO Alexis Mourot called price "a very sensitive issue" and said the company was taking it very seriously.
Meanwhile, and although Louboutin is coy about the exact figures, retail sales were reported to have exceeded £154  million in 2010 and US$300 million the following year – comfortably double digit growth. Sales of his relatively new men's line were said by Louboutin last year to be "approaching 25% of our business," suggesting that this area will grow the brand even further in the future.
Even accounting for the steep price tags, that's a lot of shoes. In 2011 Louboutin sold around 700,000 pairs – over 1,900 pairs per day. The turnover can generate immense profit for all concerned: retail margins on high-end women's footwear can be as high as 50%, and luxury shoes generate more profit per square metre of retail space than any other department store item.
Louboutin is doing his best to spend what he makes of it. The designer has been quoted saying that he has "an addiction to buying houses" (Louboutin owns a property in Paris, a thirteenth-century castle in the Vendée, a fisherman's cottage in Portugal and a place in Aleppo. He also has a houseboat in Luxor for good measure).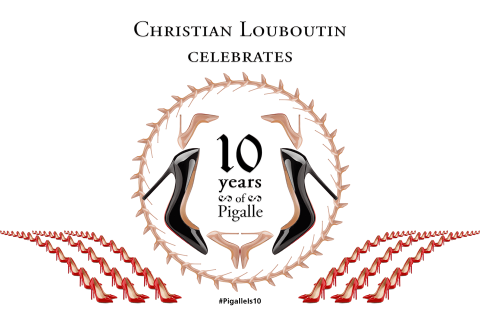 It has not all been plain sailing. Louboutin has fought fiercely to protect intellectual property rights to the red soles of his heels (the soles have once been painted yellow before to advertise UK department store Selfridges, but most requests to change from the iconic red have been turned down). "Red sole battles" have included litigation with labels such as Saint Laurent, Charles Jourdan and Zara, generating mixed results and some adverse publicity. Back in 2009, now defunct Australian retailer Peep Toe Shoes changed from using red soles on their shoes after coming to the attention of Louboutin's lawyers.
Counterfeiters are also a problem. The company maintains a multi-faceted approach to stopping the sale of fakes online, describing its standpoint as "zero tolerance." To this end, in 2003 Louboutin successfully had over 9,500 pages infringing Louboutin copyrights removed from search engine indexes. This month the company collaborated with authorities in the seizure of 292 domain names that were illegally selling counterfeit merchandise online.
Seizures of counterfeit products are also regular, and are recorded on Louboutin's website. This month, 200 pairs of fakes have already been seized in China. That number pales in comparison to a 2012 confiscation made by U.S. Customs and Border Protection of some 20,457 pairs of counterfeit Christian Louboutin shoes which landed in Los Angeles from China. The cost of making each was estimated at under $3 per pair, with a potential retail value thought to be $18 million – a staggering potential profit for the infringers.
All of this background work has assisted in Pigalle's success, such that it is now Louboutin's number one selling shoe of all time. And Pigalle has helped Louboutin: from humble beginnings in 1991 (the line was losing money in its second season), the French designer is now the most famous name in women's footwear.
Like its creator, Pigalle has not stood still. The shoe now comes in a range of different heel heights besides the original 5 inch heel. They include more walkable 4 inch and 3.4 inch versions. Over the years, the shoe has been produced in a vast range of colors and of diverse materials including python and watersnake. Spiked versions and even flat versions of Pigalle are on sale right now.
The cut of the shoe and shape of the heel have also changed slightly since the shoe's inception, annoying some devotees. However, at its heart, the name "Pigalle" remains associated with a classic shiny black patent leather red-soled shoe on a 5 inch heel, the most loved Louboutin look of all time. It is fair to say that, despite Louboutin's tinkerings, Pigalle retains all the style and sassiness it has had since back in 2004 when Louboutin named the shoe after one of his favourite neighbourhoods in Paris, the Quartier Pigalle.
Which makes it appropriate now for the designer to pause for reflection. At Pigalle's tenth birthday party this season Louboutin said, "It's not a seasonal shoe, but one that lasts a lifetime. You can wear it in winter or summer; it's suede or leather, shiny or matte. But to my mind, it reaches its maximum expression in black patent leather, because of the colour of the sole and the precision of the design." Millions of women would agree.
Years earlier, Louboutin described Pigalle more simply. It's "the design that encapsulates my career," he said. It is difficult to argue with that either.