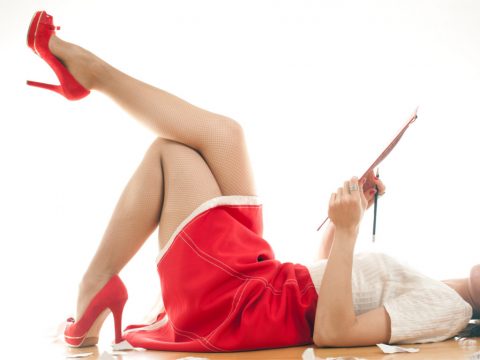 Shortly after I started HighHeelsDaily.com, something about its subject matter quickly occurred to me: shoes are a hard thing to write about for the internet. People like to *look* at pictures of shoes and many people even like to sketch pictures of shoes. But actually just reading about them, not so much.
My day job is as a writer not a photographer so I kinda thought I had picked the wrong topic for a blog. Sometimes I still think that way.
However there are some things that I can hopefully teach aspiring shoe-bloggers that might help. I've tried to put all my tips for writing about shoes in this post. I'll revisit it from time to time if there are more things I can add and would be grateful for any feedback.
Rule 1: Be authentic
In the early days of this website, I needed *a lot* of help. I went searching for shoe-writing inspiration. When I did, one name stood above all others: Manolo the Shoeblogger.
Ten or so years back, Manolo – or "the Manolo" as the definite article-loving, fictional fashionista would style himself – wrote hilarious commentary about shoes and the celebrities who wore them for his website. His affiliate program with Zappos (yes, we have one of those too) gave him a portion of sales generated when readers would purchase the shoes that his articles were (loosely) about.
Manolo's site was mentioned in Vogue Magazine in 2007 as "the first fashion blog – the prototype from which all others struggle to keep up." It was successful for years before ultimately all but fizzling out. In 2015, historian Howard Miller revealed himself as the previously anonymous Manolo, with Miller now going on to new ventures with a website about the history of food.
The Manolo the Shoeblogger model struck some trouble in the GFC but it is still a model that I'd love to have emulated. The trouble is that the Manolo is (or was) hilarious. My writing is not particularly funny.
Eventually I stopping looking to other people and just started doing things my own way – learning as I went. Some of the early stuff is bad but it did get better. That's the key.
The lesson is to be authentic. If you can create a fictional voice that is better than your own, then go for it (who would have believed that the creator of the irreverent Manolo the Shoeblogger's was a highly educated, Christian man with four kids who lived in Iowa? True story!).
However chances are you can't create an amazing character like the Manolo. So why try? When you're shoe-blogging, I think it is easier and ultimately better just being yourself.
Rule 2: you have to love heels to buy them
I've also learnt that high heels are a product that is not quite like other products. With high heels, a potential buyer has to *love* them – in fact to *fall in love with them* – in order to want to take them home.
Yes, the functional details are of some importance but they're secondary. If a pair of heels leaves a woman swooning and gushing with adoration then chances are she'll want to buy them. If they don't excite her, then they're not going in her wardrobe no matter how grand the craftmanship.
All of which leads me to…
Rule 3: sexy is sexy and beautiful is beautiful
When I studied journalism, I was given a list of words that could be used instead of "won" and "lost" when talking about sports results. Diversity of language is generally good when writing.
When writing about high heels though, there really isn't any word that replaces "sexy." And there isn't one that is the equivalent of "beautiful" either. People understand what a sexy, beautiful high heel is and I aspire to write mainly about those heels rather than others. If they're apt and the heel is sexy and beautiful, just use those words. It is what people understand.
Rule 4: Descriptions are kind of naff, but some things are important
When shoe-blogging, it is generally a waste of time to give a detailed description of the shoe. A picture paints a thousand words and you should let the image do the talking.
However, some details are important. The heel height and platform height are important because they help a reader decide whether heels are appropriate for work or really just "taxi shoes." Also important is the material that the upper is made out of. Like a lot of high heel fans, I don't like plastic shoes so I am careful to state whether a heel has a leather upper or not. But to vegans, the opposite is true. So it is helpful to many people to include this information.
Rule 5: If you can't be brilliant, be brief
This is a rule which is often quoted for public speaking but it is true of shoe-blogging too. Experts (real and self-proclaimed) may tell you that long articles (200 words or more) are good for SEO and so you should write long posts.
That might be true, but there is no point writing long posts if they're just waffle. Your audience will get annoyed. As I've mentioned above, with shoes, often the picture will tell the story. Let it do that.
Rule 6: the art of writing is the art of re-writing
I'll finish with another one of my favorite sayings: the art of writing is the art of re-writing. Re-reading, editing, re-working, deleting and amending articles is what makes them good. You should always leave a post overnight and then come back and look at it afresh before editing. Sometimes I have to redo nearly every word. It's totally worth it.
I know that's a general tip about writing, not one about shoe-blogging specifically but here's the rub: the real tip to take away about writing about high heels for the web is that the principles of good writing are universal. Shoes may be a tricky topic to blog about but the subject matter is highly diverse and new styles and trends are never-ending. If your writing is good, you will do well. Good luck!