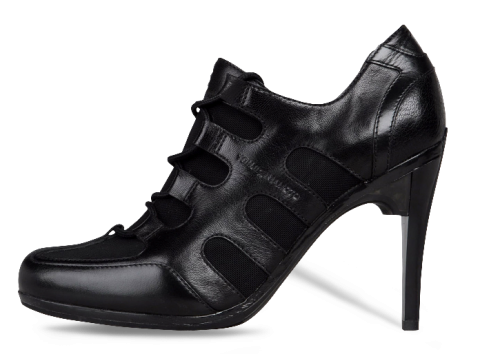 For the perfect mix of healthy athleticism and femininely, how about these high heel sneakers from Adidas? This is the Y-3 Dita stiletto which is said to fuse "sport technology and feminine elegance with a leather cage lined in breathable mesh." This high heel sneaker is available for €390.
The Dita is from the Y-3 range, a collaboration between Adidas and Japanese designer Yohji Yamamoto. (The "Y" in "Y-3″ stands for Yohji Yamamoto and the "3″ represents Adidas' signature three stripes.) The aim of the collaboration is to push the boundaries of fashion and sport, hence the high heeled sneakers.
The Oriah ankle boot also features the famous Adidas three stripes and is from the same collection. It has a sneaker-like sports traction outer sole, and a futuristic heel that is claimed to cushion impact and boost energy return. It's available from Y-3 for €550.