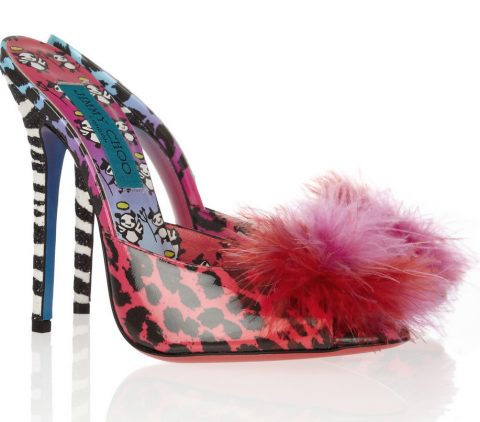 If you're anything like me, you'll just *hate* to have your feet tickled. And I know I'm not alone: most of my girlfriends feel the same way. But knowing all that hasn't stopped pop-artist Rob Pruitt referencing this egregious pastime in his collaboration with Jimmy Choo in a capsule collection for Spring / Summer 2013.
Pruitt's "Tickle mules" do make me laugh though, and not because I'm squirming with ticklishness. These playful shoes bring a smile to my face because, above all, they are fun. The shoe is completely over-the-top and, in keeping with this, it references all aspects of the boudoir – there's the oversized feather from which "Tickle" gets its name, and even angel and devil printed panda motifs on the insole for the girl who can't decide whether to be naughty or nice. The 4.5 inch heel is a glitter zebra-print (what else!) and the soles are colored a slightly naughty pink.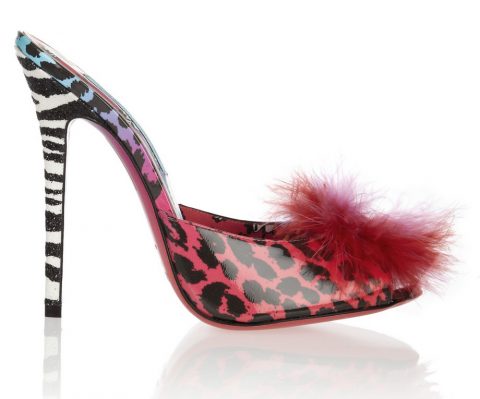 The shoe is a mule of course – the time-honoured bedroom footwear for generations – but its striking, self-mickey-taking personality will certainly see it moving beyond the bedroom to hit the streets and red carpets this coming season. I can see the Tickle as a feature in itself, worn with a little black dress to draw attention to its multitude of features. Another option would be to wear Tickle as part of a multi-colored ensemble: I'm thinking fluoro hotpants, a bright feather boa and zebra-striped eyeglasses.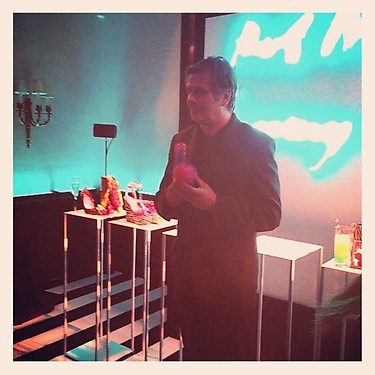 The Jimmy Choo x Rob Pruitt capsule collection was launched at a cocktail party in NYC Thursday. Here's the artist himself with the Tickle mule (picture: @JimmyChooLtd).
Highheelsdaily.com will be featuring more of the collection in the next few days. In the meantime, the Jimmy Choo and Rob Pruitt Tickle patent leather mules are available now from Net-a-Porter for £458.33, and come with angel and devil panda stickers.