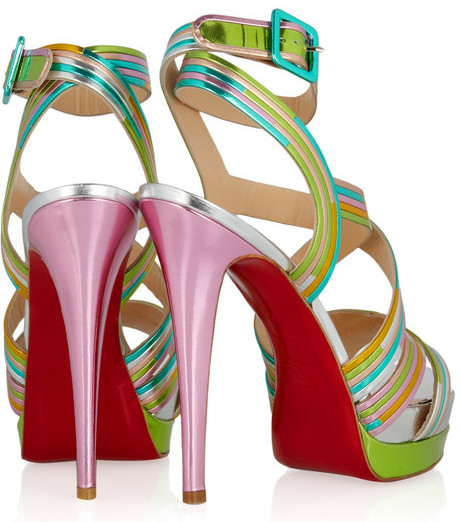 Christian Louboutin's appeal in his ongoing red-sole litigation was heard on Tuesday by a three judge panel of the US Second Circuit Court of Appeals. The panel heard argument in Christian Louboutin S.A., et al v. Yves Saint Laurent America et al.  and  "reserved" their decision (meaning they will give it at a later date).
Louboutin is appealing against Judge Victor Marrero's refusal last October to grant his him and his companies a preliminary injunction against the sale of red-soled pumps by Yves Saint Laurent. In his reasons for refusing the preliminary injunction, Judge Marrero also said that a "broad spectrum of absurdities… would follow recognition of a trademark for the use of a single color for fashion items."
The appeal hearing was not without incident, with Senior Judge Chester Straub at one point asking YSL's lawyer to take a red-soled pump off the bar table. "Frankly, I find it distracting," the judge said.
Judge Jose Cabranes wanted to know why Louboutin had appealed the preliminary injunction instead of waiting for a summary judgment ruling on the issue of the validity of his red-sole trademark. Louboutin's lawyer suggested (no doubt correctly) that Judge Marrero had made it perfectly plain that he would not be upholding the trademark.
The appeal panel's decision will be given on a date yet to be determined. One possibility  is that the Second Circuit will send the case back to Judge Marrero for a summary judgment ruling, and then there will be a fresh appeal. Commentator Alison Frankel who was at the hearing thinks this is a likely result. For her report on the appeal hearing, see Shoes and herrings are red in 2d Cir. Louboutin argument.
Business at Christian Louboutin, of course, continues merrily on. The metallic leather sandals above are new to net-a-porter for £1,093.95. At that price they should pay for plenty of lawyers' bills.