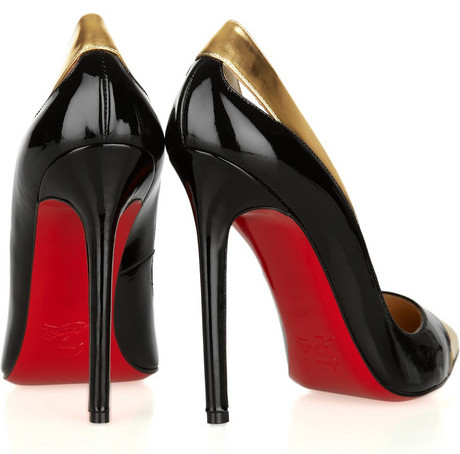 In a little over 20 years Christian Louboutin has gone from a virtually unknown shoemaker to the world-famous head of a brand that sells around 240,000 pairs of designer shoes in the United States alone.  With the decision in Louboutin's appeal in his red-sole litigation still pending, we look at how Judge Victor Marrero described the birth and rise of the red sole empire in his original decision. Judge Marrero began:
Sometime around 1992 designer Christian Louboutin had a bright idea. He began coloring glossy vivid red the outsoles of his high fashion women's shoes. Whether inspired by a stroke of original genius or, as competitor YSL retorts, copied from King Louis XIV's red-heeled dancing shoes, or Dorothy's famous ruby slippers in "The Wizard of Oz," or other styles long available in the contemporary market — including those sold by YSL Christian Louboutin deviated from industry custom. In his own words, this diversion was meant to give his line of shoes "energy," a purpose for which he chose a shade of red because he regarded it as "engaging, flirtatious, memorable and the color of passion," as well as "sexy."…

In pursuit of the red sole's virtues, Louboutin invested substantial amounts of capital building a reputation and good will, as well as promoting and protecting Louboutin's claim to exclusive ownership of the mark as its signature in women's high fashion footwear.

Over the years, the high fashion industry responded. Christian Louboutin's bold divergence from the worn path paid its dividends. Louboutin succeeded to the point where, in the high-stakes commercial markets and social circles in which these things matter a great deal, the red outsole became closely associated with Louboutin. Leading designers have said it, including YSL, however begrudgingly.
Judge Marrero then moved on to consider the fame that the red-soled shoes had generated, even quoting from Jennifer Lopez' Louboutins:
Film stars and other A-list notables equally pay homage, at prices that for some styles command as much as $1,000 a pair. And even at that expense, a respectable niche of consumers wears the brand, to the tune of about 240,000 pairs a year sold in the United States, with revenues of approximately $135 million projected for 2011. When Hollywood starlets cross red carpets and high fashion models strut down runways, and heads turn and eyes drop to the celebrities' feet, lacquered red outsoles on high-heeled, black shoes flaunt a glamorous statement that pops out at once. For those in the know, cognitive bulbs instantly flash to associate: "Louboutin." This recognition is acknowledged, for instance, at least by a clientele of the well-heeled, in the words of a lyrical stylist of modern times:

Boy, watch me walk it out … Walk this right up out the house I'm throwin' on my Louboutins …

And as an equally marked sign of Louboutin's success, competitors and black market infringers, while denying any offense, mimic and market its red sole fashion.

No doubt, then, Christian Louboutin broke ground and made inroads in a narrow market. He departed from longstanding conventions and norms of his industry, transforming the staid black or beige bottom of a shoe into a red brand with worldwide recognition at the high end of women's wear, a product visually so eccentric and striking that it is easily perceived and remembered.
The full text of Judge Marrero's decision is available for here (PDF) and costs nothing. The Louboutins pictured above  available at net-a-porter for £354.17.