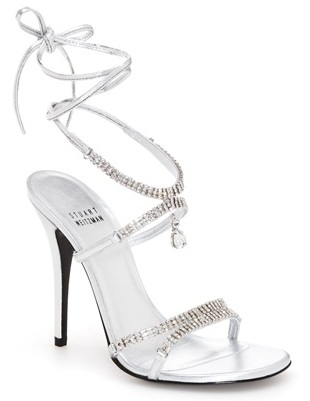 In 2002 Mulholland Drive actress Laura Harring strode down the red carpet at the Oscars wearing a pair of Stuart Weitzman creations that would come to be known as the "million dollar shoes." Adorned with 464 diamonds worth US$1 million, the shoes started a tradition by which Weitzman designed a one-of-a-kind jeweled pair of shoes for an up-and-coming actress on Oscar night every year until 2008.
"I created it out of frustration," the designer said years later. "We had been making shoes for all these girls and nobody was paying attention on the red carpet."
The tradition ended out of Weitzman's sensitivity to the global financial crisis but now, ten years on, he has reworked the million dollar shoe and is selling it for $595. The designer explained:
The timing is perfect to do this. It is our 10th anniversary.

A lot of things were coming together in 2012. And since this is one of my all-time favourite shoes, and one of the tipping point shoes of the company that really did something for our business  more than just being a pair of shoes, it was the  time to redo it.

The 10th anniversary year gave us a good excuse.
The redesigned shoe (pictured above) is called the "Millionairess." Adorned with Swarovski crystals straps and featuring an elegant tear-drop, it is $595 from Stuart Weitzman. The shoe also features in the new advertising campaign pictured below starring Natalia Vodianova.