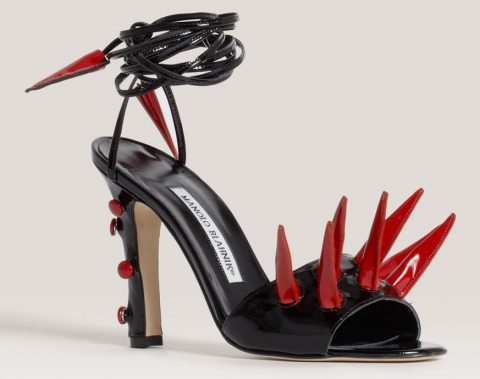 Stiletto superstar Manolo Blahnik is celebrating 40 years as a designer by releasing a collection of re-dos of some of his most famous shoes from his enormous archive of designs. The Manolo Blahnik capsule collection of modern classics will consist of just 10 pieces, and is now available exclusively through Hong Kong department store Lane Crawford.
This must be the season for anniversary releases: Blahnik follows the Jimmy Choo brand which recently celebrated 15 years in business by releasing some new takes on its old classics, and Christian Louboutin celebrated 20 years of his shoes by releasing a book late last year.
Meanwhile, back at the Blahnik collection, we've found our favourites. They're the  Pimienta open-toe pumps pictured above. Based on a design that was originally released in 1977 and with hardware in the shades of a chilli pepper, they're available for a spicy US$1,410. A close second is the Calder pump below (from 1993, but timeless).  The pump is described as "a modern rendering of designer Yves Saint Laurent's famous 1954 Piet Mondrain dress" and comes with the modern price tag of US$1,285.