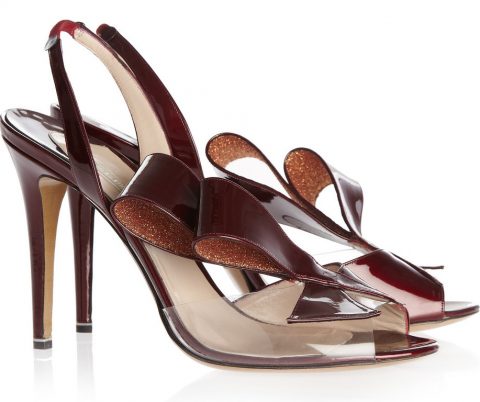 Not long ago it would have been difficult, if not impossible, to spend several hundred dollars buying a pair of clear, PVC heels. See-through plastic shoes were reserved for the bedroom – or perhaps for those earning some money by pretending they were in it – but this is the case no more. It seems that clear PVC is the material du jour for high end shoe designers right now.
Nicholas Kirkwood is the latest to get into the act, with these elegantly balanced, 4 inch slingbacks.  This shoe is crafted from burgundy patent-leather. An architectural glitter-trimmed bow sits above the clear plastic portion (which is visible at the outside front of each shoe).  The heel itself is a traditional, leather-coated stiletto rather than the lucite kind favored by perhaps more racier (and less high end) designers.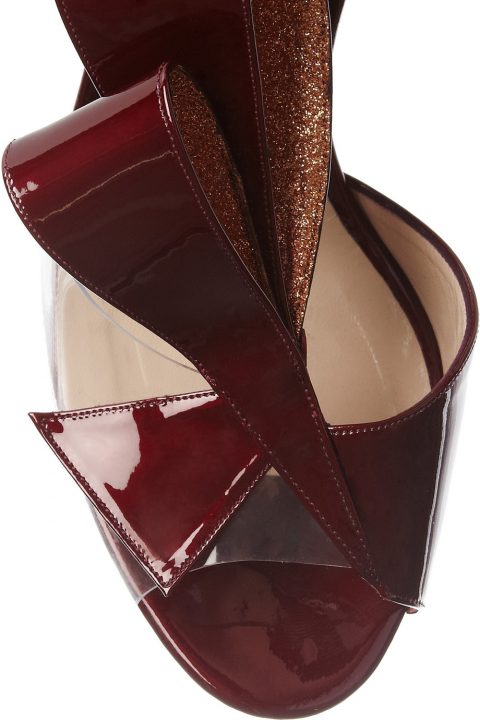 Of course, as the Nicholas Kirkwood heels demonstrate, it takes more than a stiletto heel and a clear strap to make designer PVC heels. Nonetheless Nicholas Kirkwood joins Christian Louboutin in using the see-through material as a critical part of the design and make-up of his designer shoes. Expect more designers to follow suit.
The Nicholas Kirkwood high heels are available through net-a-porter for £525.