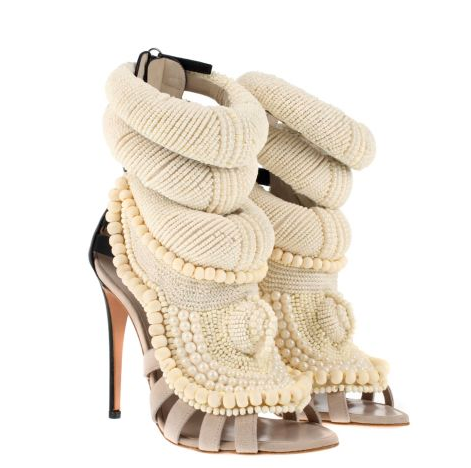 It's not easy to work out what the most expensive pair of high heels in the world is. For one thing, there are new shoes being designed every second and high heels seem to be getting more and more expensive.
Earlier this year, Women's Wear Daily launched an investigation into the seemingly skyrocketing prices of designer shoes, speaking to representatives of designers and retailers. Daniella Vitale, Barneys' chief merchant and EVP confirmed that in recent times "the prices have shot up dramatically."
Meanwhile Alexis Mourot, CEO at Christian Louboutin, told WWD that the price of designers shoes was "a very sensitive issue, and we're taking it very seriously…" However he then went on to blame currency differences  for the large price tags: "When you price 500 euros in dollars, it's $750 to $780, you say 'Oh my God! $780 looks pretty high, but 500 euros isn't that crazy."
Manolo Blahnik CEO George Malkemus said that his theory was that "when [designer-branded] ready-to-wear priced itself out of the realm of most consumers, shoes and bags were still affordable. Now, what's happened is the shoe people and the bag people sort of lost control of that, and they are scaring off a certain consumer."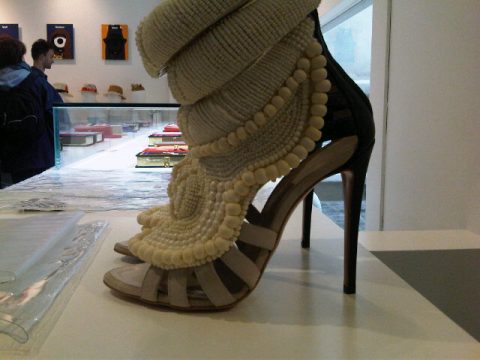 So what are the most expensive shoes in the world right now? In answering that question we've stuck to designer high heels that are available for purchase online. That means we've ruled out one-off or very rare pieces such as Stuart Weitzman's million dollar shoes or the  Eternal Borgezie Diamond Stiletto (priced from US$155,000 a pair).
Our answer is that the most expensive high heels currently available are these special edition Kanye West by Giuseppe Zanotti beaded sandals. The heels were designed by West in conjunction with Zanotti and debuted at Paris Fashion Week last year. The price tag? A mere US$5,810 from Luisaviaroma.com.