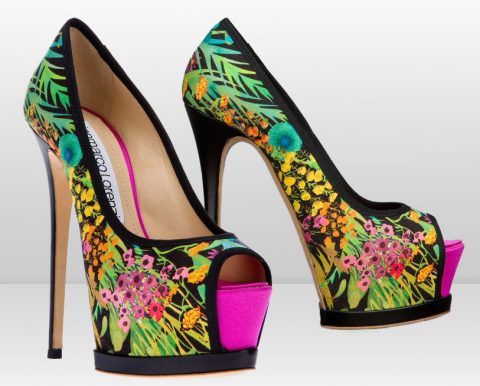 Quite simply, Gianmarco Lorenzi has done it again. The veteran designer of some 30 years experience has surpassed even last year's spring and summer offerings (which we gushed over) with this year's collection. The absolute highlight for us are these beautiful printed, summery peep toe pumps. The multi-color floral print on these platform heels just rocks our world, and it's good to see that the designer hasn't backed away from his trademark stilt-like heel either. The detail in close-up is breathtaking.
With only a few left in stock, this Gianmarco Lorenzi peep toe can be farfetched from Paris for $682.51.
We remarked last year that good things take time with Lorenzi, and unfortunately the designer's website is under construction. We hope that the same love and attention goes into the new site as has gone into the spring / summer look. Meanwhile, here are two other printed pumps from the collection that are available for purchase online:
These towering printed pumps have a 150mm (6 inch) leather covered high heel, but the steep pitch is alleviated by a 10mm external platform and 40mm internal detailing. The artwork that decorates them is created with Swarovski crystals and a micro pearl & sequin appliqué detailing. These printed high heels are available from LUISAVIAROMA.com for $1082.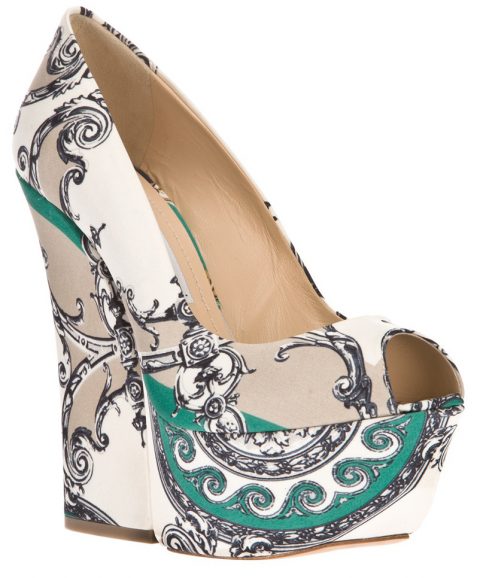 Finally, the spike heel takes a break with these printed wedge heels. The peep toe feature remains, and this time the shoes are decorated with a multicolour paisley print. These wedges can be farfetched for $682.51.