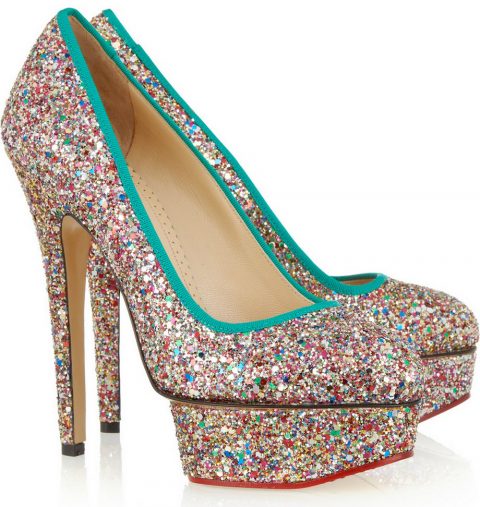 The Outnet is a great idea – a website where you can buy fashionable designer shoes and clothing seen on net-a-porter, but at seriously discounted prices. Unfortunately shoes that are "slow selling"  are sometimes not being bought for a reason. And that reason is because they're ugly! The Outnet is a little bit like an archive of high heel designs that should never have been designed in the first place, by people who really should know better.
As Exhibit "A" I give you these Charlotte Olympia Priscilla glitter-finish leather pumps. Now we loooove Charlotte Olympia's fabulous platforms – which are famous for good reason – but these are just too much. They make me ill just looking at them. Proving that taste is subjective, they're sold out in all but one size. If you're an Italian size 40 you can pick up a pair at the Outnet for £216.67, which is 60% off their original price.
Sometimes the issue is a good idea but bad execution. I love the neon trend, and love Brian Atwood but somehow these printed canvas sandals make me feel a migrane coming on. If you think I'm wrong (and you're a size 38.5) you can pick up a pair for £185, again a saving of a juicy 60%.
Oscar de la Renta also makes the hall of shame with this trend-gone-wrong sandal. The trend is the clear PVC high heel craze but the execution is awry with the ghastly tasseled ties, metal eyelets and lace-up front to this rather cheap-looking plastic conglomeration. Those who disagree can pick a pair up for half-price, that's £262.50.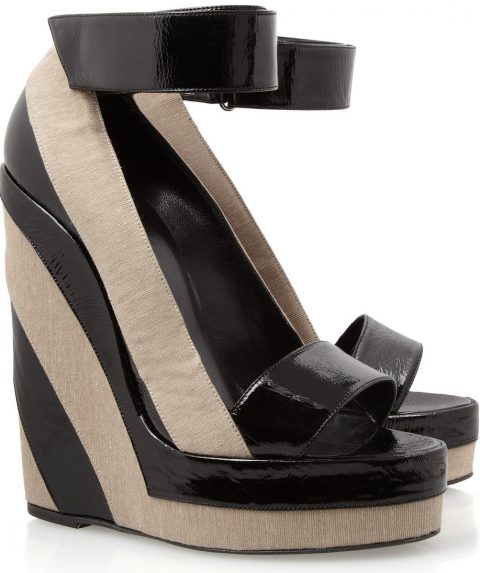 I do not know where to start with this wedge heel from Pierre Hardy. The shape and color are on the wrong side of ordinary, but this shoe's worst feature is its velcro-fastening ankle strap. It looks like something you'd use to bang in a nail. Those who disagree can get it for £243.75 from the Outnet – that's 55% off.
Finally, while we're speaking of velcro it would be wrong not to mention these mesh and suede ankle boots from Alexander Wang. They're not for me, but if they float your boat the price is £196.87, a discount of 55%.