Only 10 months ago, Kim Kardashian posted a picture of herself in "full on beast mode," on all fours on a white couch wearing black over the knee boots and not terribly much else.  Now it seems that at least one pair of her designer FMBs is for sale. The star has put this pair of Christian Louboutin over the knee boots up for auction on her eBay site.
We wonder if the sale is just part of a regular closet clean out, or has the mother-to-be decided that over the knee boots are just a little too racy for her pending maternal role? Well, at least we doubt she'll be giving birth in them. And a little speculation is always fun.
The black suede boots have certainly seen some action if the scuff marks on their red soles are any indication. The eBay posting notes this and also states that the boots are "pre-owned [and] in very good condition." They are in Kim Kardashian's shoe size, which is a 37 in Louboutins (in case you were wondering) and have a 5 inch heel with a 1 inch platform.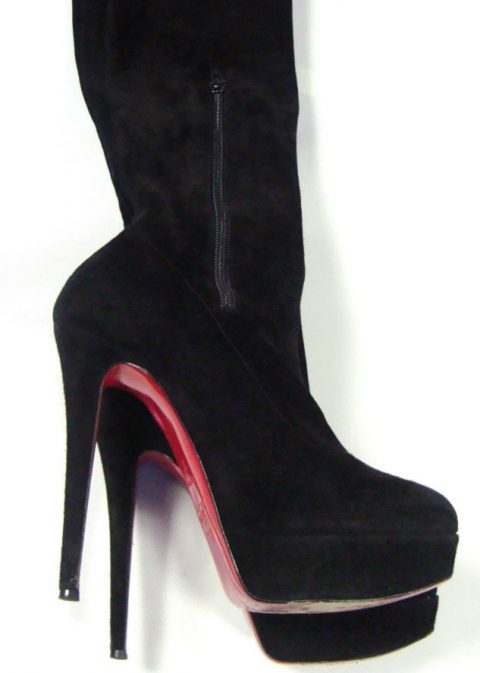 As with all Kim's auctions, a percentage of the takings will be given to charity (the proportion is not specified). So if you manage to snag these boots, the Life Change Community Church will get some of your hard earned dollars. Bidders had better hurry: the auction is only open for another 2 and a half days and the price is already nearing US$1,000. Awaken your inner "beast mode" today.