ARCHIVE: As at July 2016 these pumps are unavailable and links have been removed. We will add links should this product become available again.
The Michael Antonio brand is no newcomer to the budget high heels range. The label has been around for over 40 years, with the family owned business creating its first pair of shoes in 1970. Since that time it has consistently provided a huge selection of fun, cost-effective footwear targeting a demographic of women aged 18-40.
Michael Antonio's latest fun creations are these metallic-look pumps with hidden platform. The shoes are new color versions of the classic Loveme pump which Michael Antonio has been selling for some time. The new metallic-look Loveme pumps retail at Zappos for only $49 in yellow gold
(above), copper
(below) and silver
(bottom).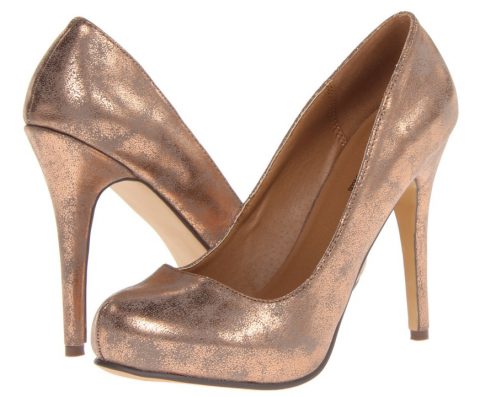 At only $49 a pair these heels should be fun to use either costume shoes or to add a splash of metallic bling to an outfit without breaking the bank. The shoes all have a metallic faux-leather upper with a manmade lining and sole. The heel height is 4.25 inches and they have a hidden platform of 0.75 inches giving an effective height of 3.5 inches.
Easy to walk in and not too painful on the purse, we think Michael Antonio is onto a winner with these new additions to the range. Loveme indeed!