For at least a couple of years now, we've billed the battle of the 4 inch black work pump as being between two contenders: the reigning champion Christian Louboutin and his 100mm red-soled Pigalle, and the challenger Jimmy Choo with the Abel (a 4 inch version of the brand's 5 inch Anouk).  But this is a popular retail niche, and other top-end designers wish to have their wares in this category too. Which brings us to Giuseppe Zanotti's offering.
The beautifully-shaped Zanotti 4 inch black high heel has pretty much exactly the features you'd see in other work pumps of this kind: the heel is around 4 inches or 100mm high (Zanotti's is officially 3.9 inches), and the shoe has a closed, pointed toe, a low-cut outer and is handmade of leather (nappa leather in this case) with a leather sole.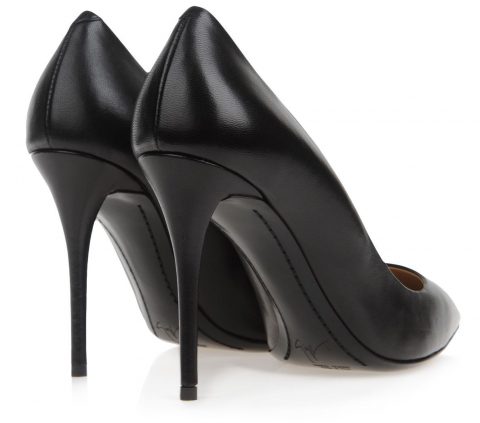 Although the Zanotti, Choo and Louboutin heels are similar, there is one major point of difference – the color of the sole! Christian Louboutin's is red of course, and Jimmy Choo's is a natural off-white / light brown shade. There is no risk of confusing either pump with Giuseppe Zanotti's shoe because it has a black sole to match the color of the shoe's upper. We think it manages to both be eye-catching and yet remain appropriately conservative at the same time.
There's one more obvious point of difference between the heels, and that is that the Zanotti shoes are the most expensive of the lot. They're available for $695 from Giuseppe Zanotti's website. Louboutin's Pigalles take second place at $625 per pair, and Choo's Abel is a full $100 cheaper than the Zanotti pumps costing a mere $595.