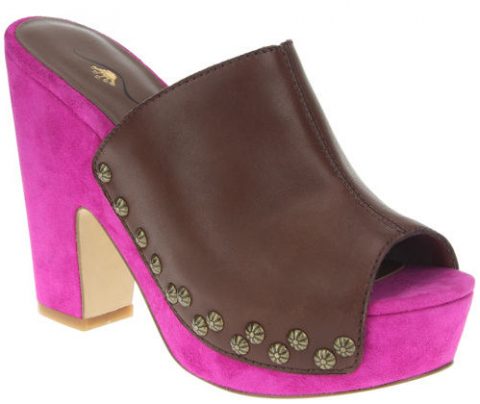 Iconic New York brand Nina Shoes will proudly celebrate 50 years since its first shoe order this year. Co-founded by Cuban immigrants and brothers  Mike and Stanley Silverstein in 1953, Nina Shoes have been designed in New York since the brand began. The first shoes produced by Nina were fashionable re-interpretations of Cuban clogs, sexed up with a wooden stiletto heel. The brothers' hard design work paid off as Nina received its very first order – made by Sylvia's on May 3rd, 1954. And it has never looked back.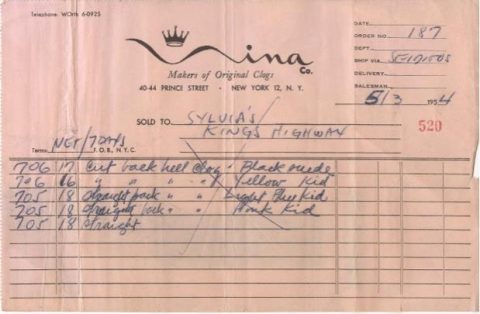 The original invoice – complete with tag-line "Nina Co – makers of original clogs" – appropriately shows orders for cut back heel clogs in a range of fun colours, including pink, light blue and yellow kid.
While there have been many fashion twists and turns in the intervening years, the Nina Originals collection celebrates the long heritage of the label by re-interpreting fashion classics. Today's shoe highlight reflects the colour and fun that no doubt drew Sylvia's to take the initial plunge on the collection nearly 50 years ago.
Nina's Kalinda clog pays homage to the brand's history by re-interpreting the first shoes produced by Nina Shoes. Of course those shoes themselves were re-interpretations! In contrast to the 1950s model, Kalinda has quite a chunky 4.75 inch wooden heel. Further, the vegetable dyed leather upper and stud detailing also reflect back to a look from the fashionable 1960s or 1970s.
The new clogs promise comfort as well as a jazzed-up retro look. Originally retailing for $195 a pair, the Kalinda clogs are available in combinations of walnut / orchid (top), natural / lemon (middle) and black latte (below) from the Nina Shoes website for only $79.95 a pair. Shipping at this stage is only to the USA and Canada, but the capacity to ship to Australia and Western Europe is promised to be coming soon. Happy Birthday Nina, and many happy returns!