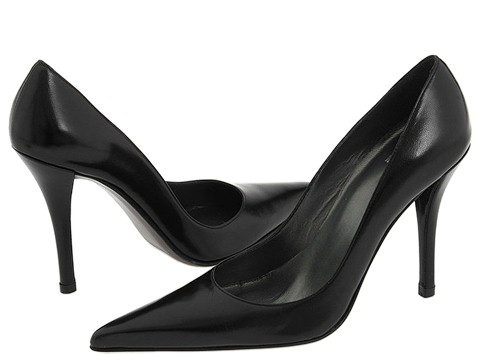 We constantly monitor best-selling lists for high heels online, always on the lookout for what's trending in numbers of sales or in customer reviews. According to customers, right now there's no heel hotter than Stuart Weitzman's Fever pump ($355 from Zappos for USA customers only, with free shipping
).
Fever has a 4 inch heel, and its classical pointed toe and lightly padded footbed seem to make it the perfect night and day high heel. Customers agree and are absolutely raving about this classic shoe, so much so that they have rated it an average 5 out of 5 stars overall through 180 reviews. The overall rating is based on individual ratings for both comfort and style, meaning this heel is outstanding in both categories.
Here's some of the comments from reviewers on Zappos.com:
Nothing else compares!
Remarkably comfortable and easy to walk in.
I do not know how he does it but it is, by far, the sexiest fit and look on the market today.
This shoe is classy, sexy and chic.
The reviewers also commented on the amount of attention these pumps seem to attract, with comments such as:
Every single time I wear Fever, the looks and compliments from both women and men alike are never-ending.
Every time I wear them, people stop to compliment them.
I received a lot of compliments wearing these shoes.
For more images of this black kid leather pump with leather lining, head to Zappos.com
.