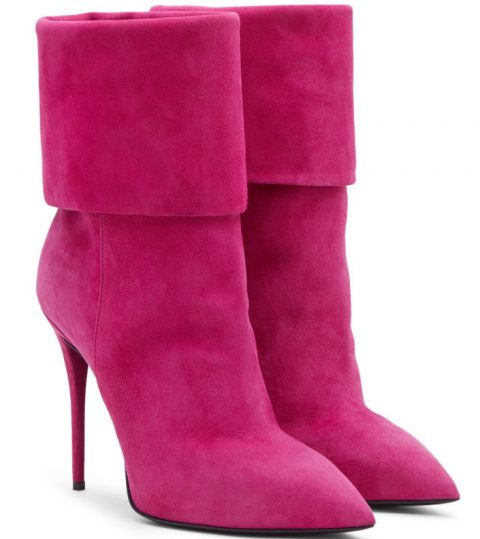 A trip back to the 1980's is the inspiration behind Giuseppe Zanotti's fall / winter 2014 shoe collection, but there's also plenty of black leather included as well. "The black part of the collection and also the 80s are the most important stories these season," said the designer when interviewed in Milan in February 2014.
The emergence of fluorescent neon hues was certainly an 80s trend, which is why we've chosen this fuchsia suede bootie with leather turnover to highlight the fall / winter collection. It retails for €1,555 from Zanotti.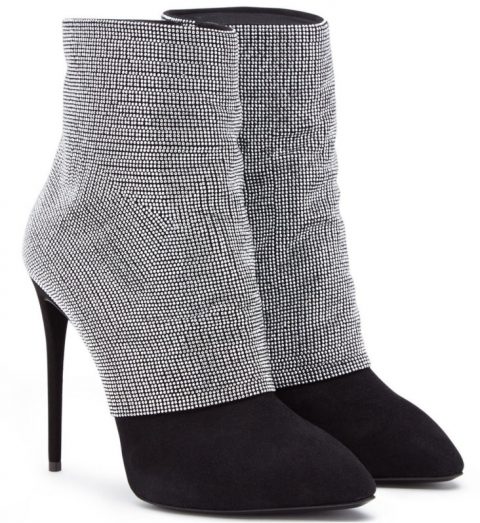 Sticking with booties, that 80s staple – the legwarmer – spring instantly to mind when looking at these black suede numbers. However what you're really looking at is a crystal mesh covering – it's a clever touch. With a 4.5 inch heel and inner platform, this bootie retails for €2,105.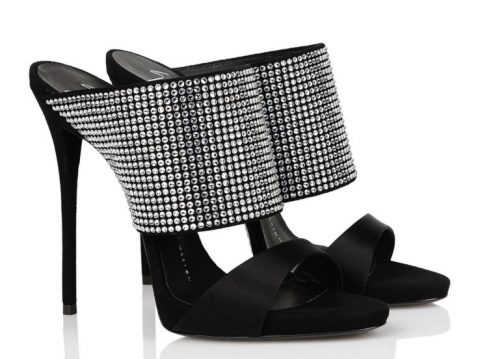 "For me the 80s was the most energetic time," said Zanotti at the collection's launch. "It was free." The classic high heeled sandal of the 1980s – the mule – certainly reflects those thoughts. It's free, easy going and has just the slightest hint of promiscuity (remember Peggy Bundy?).
It shouldn't harm sales to hear that mules are on trend big time this season either. Updated for fall / winter 2014 with a 4.7 inch stiletto and crystal decorated strap, Zanotti's high heeled mules can be bought for €1,140.
Finally, no collection would be complete without a classic black pump and Giuseppe Zanotti certainly doesn't disappoint with this 3.9 inch pump with sculpted upper.
"Leather is my DNA, my personality, my world, my passion," Zanotti said when introducing his collection. The passion shows. The exquisitely cut pump retails online for €910.