Beginners learning to walk in high heels often want to know which heels are best for starting out in.
While opinions vary, most experienced heel walkers will recommend a sandal with a secure strap across the toes.
This helps you feel what is going on with your new gait as well as preventing your dainty foot from being unnaturally squeezed as you take your first steps.
We also recommend that the first-time high heel wearer invests in a shoe with a secure ankle strap too.
Very pretty shoes like backless heeled mules are more difficult to walk in and are best left out of the beginner's wardrobe in case they slip off.
A final tip when starting out in heels is to begin with a chunky or block heel of no more than three inches in height.
Once you've mastered your technique, you can move on to thinner and higher heels if you want to do so.
Best beginner heels on Amazon
One thing is for sure, there is never a shortage of women learning to walk in heels if Amazon's best seller lists are consulted.
Their best selling high heel sandals list is almost always filled with perfect shoes for starting out in high heels.
We have selected out top five heels from this list to help you take your first steps. Please note that as an Amazon Affiliate we earn from qualifying purchases.
Each of these heels has thousands of positive reviews on Amazon, meaning that they are tried and tested.
Just what you want when starting out. Good luck!
#1: Chunk from Dream Pairs, $39.99 at Amazon
One shoe ticks all the boxes for the best beginner high heel sandal. The clue is in the name – it's called Chunk and the chunky heel provides the perfect base for stepping out in heels.
Pictured here in baby blue, Chunk comes in over 20 different colors.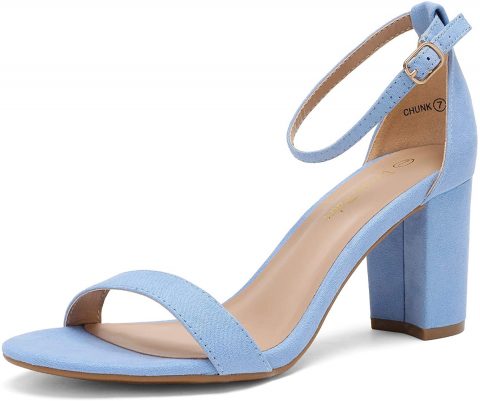 Best of all, over 5,000 reviews on Amazon have given Chunk the seal of approval.
#2: Rhinestone heels with zipper, from $14.06 at Amazon
An elastic ankle strap secures Top Moda's rhinestone sandals to your feet, while the back zipper makes slipping into them a breeze.
Approximately 4,800 women have rated these heels (with an average of 4.4 stars). A three inch heel is perfect for starting out which is just what this shoe comes with.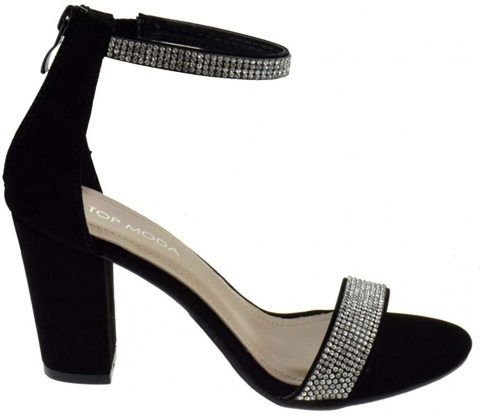 To follow the crowd and stand out from it too, see more at Amazon.
#3: Gold Herstyle Sandals, $27.99 from Amazon
You're sure to shine with your heel debut in these strappy Herstyle sandals.
The heel height is on the upper limit for beginners (they're 3.75 inches) but they do come with an extra pad insert that helps with comfort.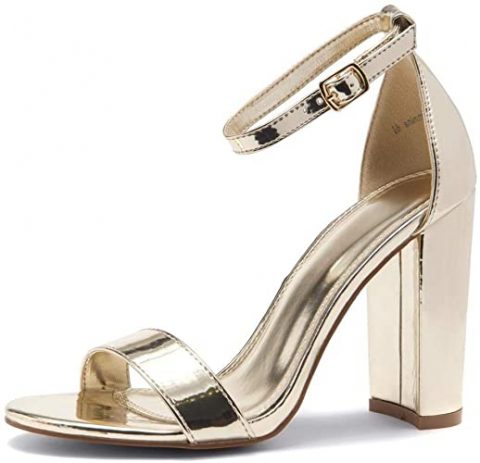 Read more reviews from over 4,500 ratings on Amazon.
#4: Chunky buckle sandals, from $27.99 at Amazon
Allegra K has been offering this starter-sandal since January 2016 on Amazon. No wonder it has over 2,000 reviews.
Not just beginner shoes, these heels will be a wardrobe staple for years to come.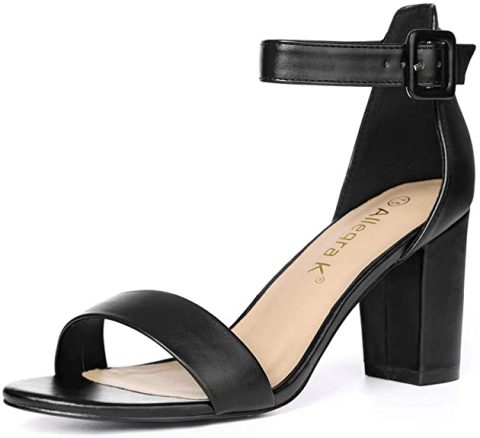 See more colors and pictures at Amazon.
#5: Leopard-look block heels, $24.99 from Amazon
We've saved the most gentle for last.
At only a two inch heel, Belle Marie's open toe block sandals will be easy to practice walking in while being a feature shoe just the same.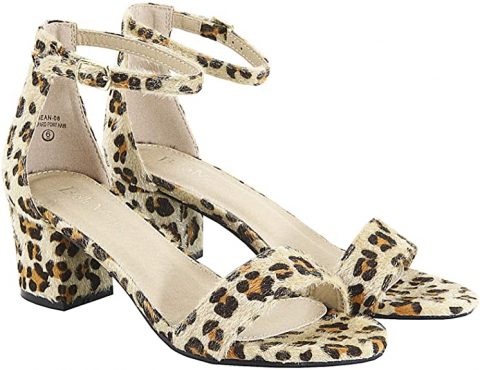 See more colors and reviews on Amazon where this popular shoe has over 2,200 customer ratings.