The residents of Melbourne, Australia are getting ready for their annual Melbourne Cup horse race – the "race that stops a nation" at Flemington Racecourse on the second Tuesday in November. However I doubt that Camilla Skovgaard's latest piece of shoe design humor will find too many takers for the fashions in the field.
You're looking at Camilla Skovgaard's hoof-shaped court shoes. And yes what you're thinking is correct: they're a regular black pump on top but with a contrasting metallic platform sole that's designed to look like a horse's hoof.  The perfect raceday accessory for any woman who wants to spend the day being teased about the size of her feet or the length of her gait.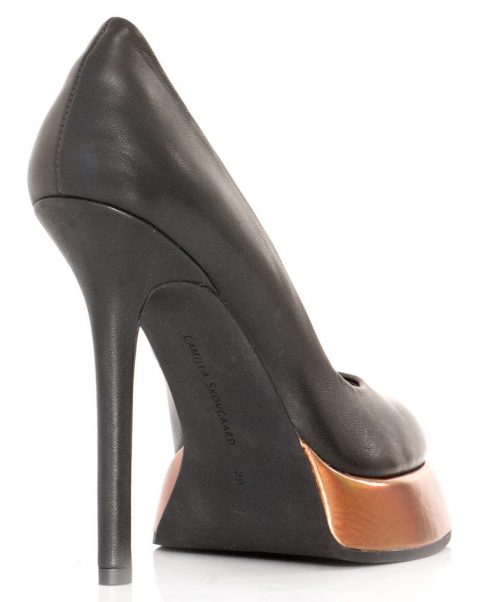 The good news is that these heels are not made of real horses' hooves – or the hooves of any other animal for that matter. We encountered Iris Schieferstein's taxidermy high heels a couple of years back – which were made from real hooves, and they gave us the creeps.
The other thing Skovgaard's high heels have going for them is a nice wide platform sole. That should help steady the racegoer if showers threaten to turn fields into bogs (something not unknown in Melbourne) and help her to walk home upright after a day on the champagnes.
I don't know if they'll catch on this racing season, but Camilla Skovgaard's hoof-shaped court shoes are available now for £285 from Matches.