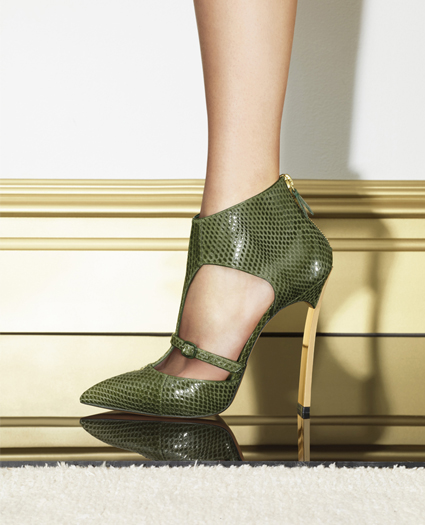 Designer Cesare Casadei has said that he hopes his label's fall / winter 2013 / 2014 collection will fulfil all women's desires, becoming a must have accessory in their wardrobes. While pictures of the collection are still scarce (it is not yet available for purchase on the Casadei website) a video of the designer himself presenting the collection has emerged (Italian with English subtitles).
[youtube=http://www.youtube.com/watch?v=gjA6s4z5dBo&list=UUplNagijFXF8PKbzUd8gQwA]
Casadei says that his signature use of colour will again be present in the  fall / winter 2013 / 2014 collection saying that the "gold flows through the collection highlighting it, and it is represented in different ways."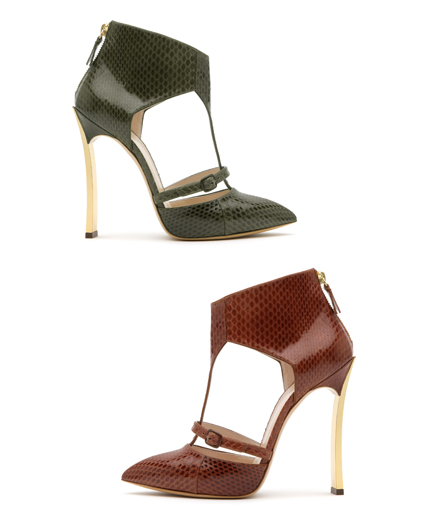 One such way is in the newly created gold heels called the Casadei Blade One (pictured). The gold blade heels are of course a variation on the original metal coloured version that has been so popular with celebrities such as Kim Kardashian, and others besides. For AW 2013 / 14 it has evolved to form an elegant golden column but has retained the trademark curved steel heel look.
Aside from black, there are three main colours used in the Casadei 2013 collection. They are olive green with a military touch, "cuoio" (which is Italian for "leather" and therefore means a brown leather colour) and "klio" (beige with a pink touch, which Casadei described as "very elegant and refined").
"Our women have to feel confident to show their own femininity while walking in our shoes," Casadei said. If the rest of the collection is up to the high standards of the shoes shown in this sneak peek that than shouldn't be too difficult.